Whether you're just starting out or already have an online store, the best WordPress Woocommerce Wholesale plugins can help you manage bulk orders and offer wholesale pricing in one convenient place.
n this article, we'll review the top Woocommerce Wholesale plugins and discuss how they can help make managing your store easier than ever.
What is the Woocommerce Wholesale Plugin?
WordPress Woocommerce wholesale plugins are a powerful tool to leverage the WordPress platform, enabling businesses to provide customers with better pricing and offerings, and bridging the gap between retail and business-to-business eCommerce.
These plugins help small business owners set up and manage their product lines so that wholesalers can easily view price lists, select products, or customize their order quantity at attractive rates compared to retail prices.
With features such as multiple payment gateways and flexible shipping options, the WordPress Woocommerce Wholesale Plugin is an effective way for businesses of all sizes to increase sales and profits.
Benefits of Using a Woocommerce Wholesale Plugin
WordPress Woocommerce wholesale plugins offer businesses tremendous advantages-
Automation: Woocommerce wholesale plugins automate many of the processes associated with setting up and maintaining a successful wholesale business, such as inventory tracking, order management, and customer communication.
Customer segmentation: With Woocommerce wholesale plugins you can create distinct customer segments for discounts, pricing tiers, payment methods, shipping options, and more.
Customized storefronts: You can customize your WooCommerce Wholesale plugin to offer customers a specialized storefront that displays only products available to that segment – allowing retailers to find what they need quickly and securely easily.
Inventory control: These plugins also allow you to set minimum purchase amounts, as well as manage stock levels and orders in real-time – giving you complete control over inventory levels and ensuring no products are out of stock or overstocked.
Best WordPress Woocommerce Wholesale Plugins
Whols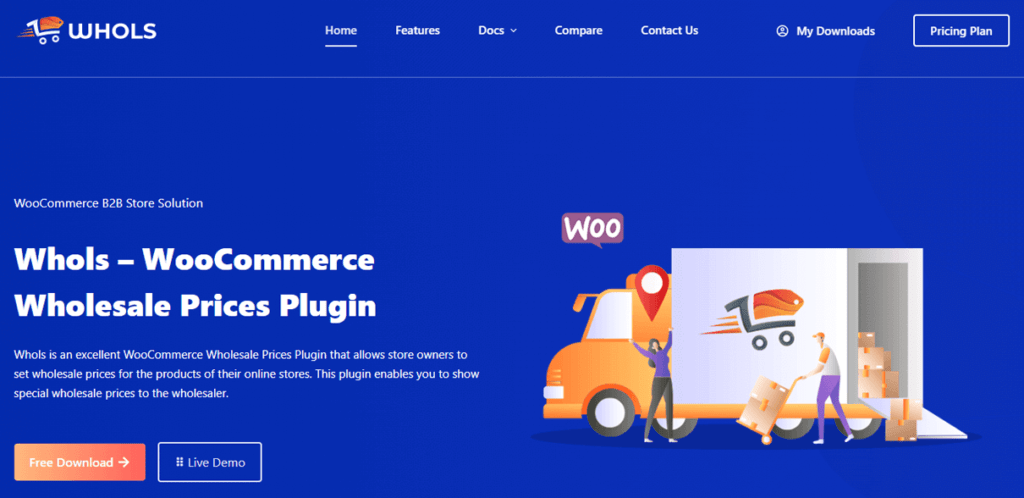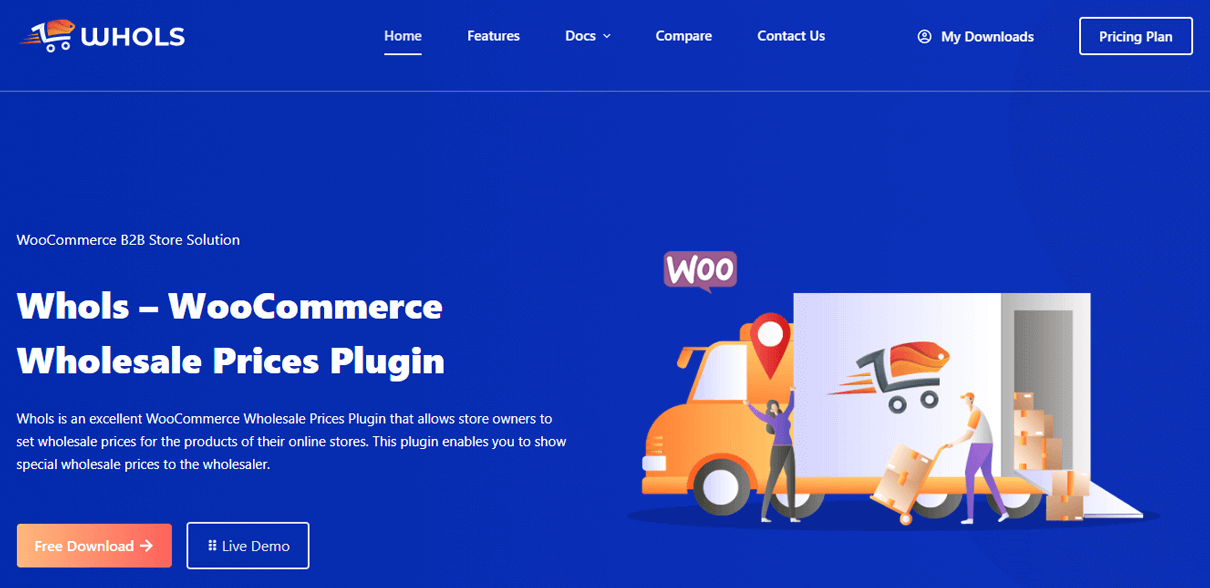 If you're looking to increase profits and efficiency within your WordPress Woocommerce store, the Whols WooCommerce Wholesale Prices Plugin is an invaluable tool. This plugin is designed with wholesale business owners in mind, allowing them to easily customize and manage wholesale pricing structures across their products. This WordPress Woocommerce plugin gives you more control over prices, allowing you to tailor each product's distribution across different retailers while maximizing success and profits through wholesale practices.
For store owners, striving to remain competitive in the marketplace, this comprehensive plugin provides the perfect solution in giving wholesalers access to exclusive discounted pricing. With WordPress Woocommerce as your platform, and using the Wholesale Prices Plugin, you can take advantage of better profits and increased customer traffic with promotional offers exclusive to resellers.
This amazing tool allows businesses to offer their customers excellent discounts and promotions, while also streamlining the process of accepting or rejecting new wholesale customers. Whols WordPress Woocommerce plugin offers store owners an easy-to-use, yet powerful option for pricing control in all types of environments.
Key Features
Wholesaler Registration
Registration Fields Manager
Hide Wholesale Prices from Regular Customers
Set The Default Wholesaler Role For The Wholesale Registration
Wholesaler Request Management
Category Wise Product Price Set
Pricing
Yearly-
1 website for $79
5 websites for $149
Unlimited websites for $249
Lifetime-
1 website for $199
5 websites for $299
Unlimited websites for $499
IGNITEWoo WooCommerce Wholesale Suite Pro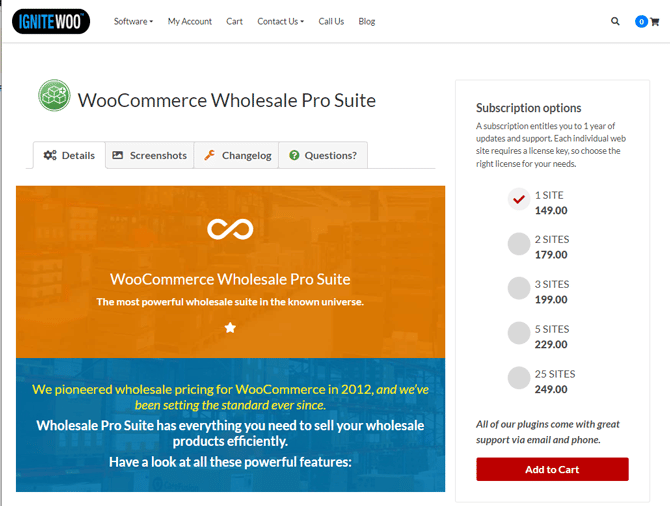 With WordPress and WooCommerce being hugely popular among merchants, IGNITEWoo WooCommerce Wholesale Suite Pro is an ideal WordPress Woocommerce wholesale plugin for setting up a successful online store. WordPress Woocommerce Wholesale Suite Pro offers merchants a powerful array of features for creating and managing an effective wholesale e-store
It also allows e-commerce retailers the ability to differentiate between retail price visibility and exclusive wholesale prices, making it even easier to offer special discounts or deals to bulk buyers. With WordPress Woocommerce Wholesale Suite Pro, merchants have the reliable tools they need to grow their businesses economically and responsibly.
This plugin is designed to ensure that everything from categorizing users to setting up different prices for exclusive products is covered concisely. It also allows e-commerce retailers the ability to differentiate between retail price visibility and exclusive wholesale prices, making it even easier to offer special discounts or deals to bulk buyers.
With WordPress Woocommerce Wholesale Suite Pro, merchants have the reliable tools they need to grow their businesses economically and responsibly.
Key Features
Multi-Tier Role-Based Pricing
Quantity Discounts and Cart Discounts
Global Role Pricing
Display Prices With or Without Tax
Invoice Payment Gateway
Pricing
1 site for $149.00/year
2 sites for $179.00/year
3 sites for $199.00/year
5 sites for $229.00/year
25 sites for $249.00/year
WooCommerce Wholesale Prices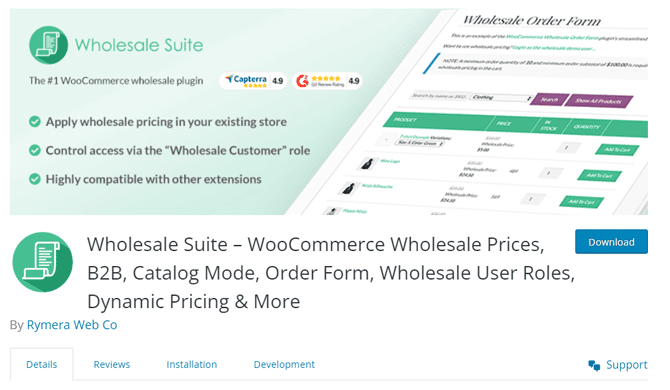 WordPress Woocommerce wholesale plugins, like the WooCommerce Wholesale Prices plugin, make it easy to offer wholesale prices on any WordPress WooCommerce store. This convenient plugin includes an additional pricing field for each item listed, which can be easily set to wholesale pricing for customers who choose the corresponding user role.
Not only does it allow owners to set individual prices per product for wholesale orders, but also allows them to hide these prices from regular customers, instantly converting their store into private-only mode. This separates the pricing of goods for each customer group, making sure there is no confusion between retail and wholesale variations of the same product.
With this plugin in place, WordPress Woocommerce stores now have a reliable solution to introduce comprehensive discounting options while ensuring they stay organized within their own store.
Key Features
New user role "Wholesale Customer"
Translatable via WPML
Works with any theme
Multi-currency support
Works with WooCommerce CSV import/export tool
Pricing
Downloading this plugin for WordPress-based stores is free.
WooCommerce B2B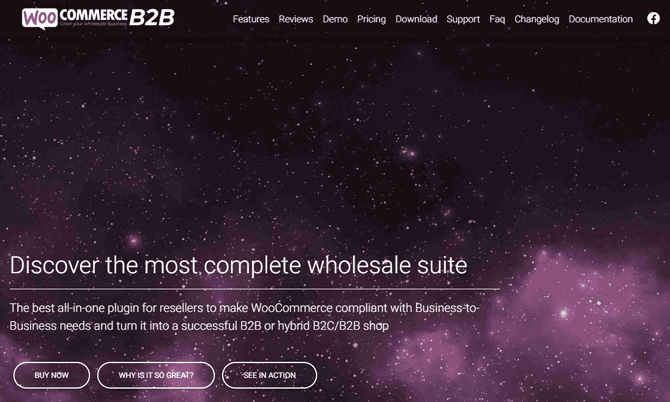 WordPress Woocommerce B2B is a powerful wholesale plugin that allows customers to comfortably manage their business-to-business eCommerce stores. Through the extensive feature set, users can price items according to their desired method, and create discounts and flexible payment terms for wholesale customers. They can also store important customer information securely and access a wide range of user roles that can be tailored with various privileges.
With WordPress Woocommerce's B2B plugins, businesses can restrict access to pricing information so that only registered and logged-in users have access. They have the option to allow visitors to view product prices that include taxes or build customer groups and provide customizable discounts to each group.
This feature-rich plugin has everything resellers need to differentiate catalog price lists between different customer groups. WordPress WooCommerce is becoming a leader in the eCommerce space with its reliable features to serve both individual customers and business customers alike.
Key Features
Hidden prices and stocks
B2B dedicated prices
Prices by quantity
Quotation system
Pricing
Regular License: $99
Extended License: $199
Barn2 WooCommerce Wholesale Pro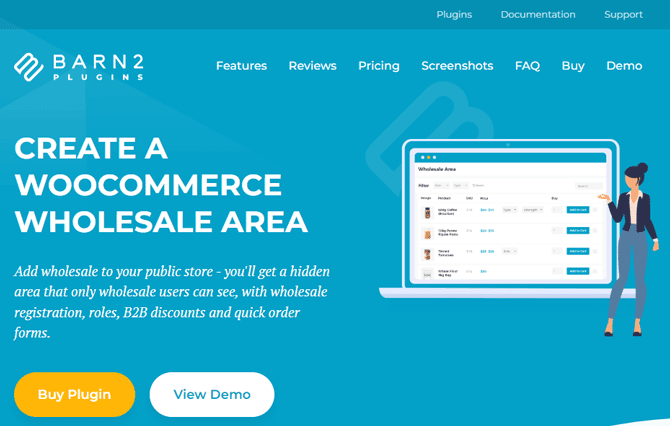 The WordPress WooCommerce Wholesale Pro plugin from Barn2 is designed to meet the individual needs of businesses buying and selling wholesale products. It's an ideal choice for merchants looking to keep their wholesale and retail customers organized while providing each user base with a tailored experience.
This powerful plugin not only permits wholesale user registration, but also allows you to create a virtually limitless number of wholesale user roles, assign specific prices to each role, and configure global or product-specific percentage discounts.
With its flexible pricing options, you can create an infinite number of wholesale jobs with its own unique set of natural discounts. Plus, it offers a customizable wholesale signup form with very convenient email and moderation options to quickly approve new accounts.
By utilizing Barn2's potent combination of global or category discounts, as well as product-specific prices, you can ensure that everything is ideal when it comes to providing tailored pricing.
Key Features
Advanced wholesale pricing discounts
Easily add wholesale users
One-place wholesale order forms
Pricing
Two Plugin Bundle: $149
One Plugin: $99
Conclusion
Choosing the best WordPress Woocommerce wholesale plugins can be intimidating given the variety of options available. But, when analyzing WordPress Woocommerce wholesale plugins, it is important to consider features like product and inventory management, check-out capabilities, support for customer accounts, and order tracking.
With all these considerations in mind, it is clear that the five WordPress Woocommerce wholesale plugins we have discussed in this article are among the best on the market today. Each offers features that will help you to efficiently run your business and satisfy your customers. In conclusion, select a plugin from this list with confidence.