Are you looking for a way to enhance your e-commerce store? Woocommerce Wholesale Plugins offer an intuitive and comprehensive solution. These plugins can easily be integrated, allowing for quick customer support. It is becoming increasingly essential for businesses to utilize such plugins in order to increase sales and promotion.
Features of the plugins include automated bulk discounts, multi-currency pricing, an order management system, and more that could help boost efficiency while enhancing customer satisfaction. Utilizing these Woocommerce Wholesale Plugins is an effective way to keep up with industry trends and gain market share.
What Are the Benefits of Using a Woocommerce Wholesale Plugin?
Utilizing a Woocommerce Wholesale Plugin can provide many benefits to any business owner. By automating mundane tasks such as ordering, managing inventory, and setting up discounts, businesses can automate these processes at scale and save time that would otherwise be spent manually carrying out the same tasks.
This automated system also helps businesses keep track of their customers' purchases, allowing for tailored product recommendations and offers for existing customers as well as potential new ones.
Furthermore, businesses are able to make use of Woocommerce wholesale plugins to assist customers with inquiries about products or services in an organized and professional manner so that customer satisfaction is maximized. Ultimately, using a Plugin Woocommerce for wholesale offers an efficient way for businesses to manage their operations while delivering an optimal customer experience.
What Features Should You Look for in a Wholesale Plugin?
If you're looking for a reliable wholesale plugin, then there are several features you should keep an eye out for.
Firstly, make sure the platform is secure and well-protected to guarantee your customer's security.
Secondly, look for comprehensive analytics that will help you understand how customers are using your plugin.
Thirdly, it's essential to have access to help desk software. Dealing with customer queries efficiently and quickly is key to creating a good experience. Make sure the plugin offers a modern UI design as this will greatly improve user navigation and overall experience for them.
Last but not least, check if it integrates with your current system or website; having this functionality can save time and money in the long run.
The Top 5 Woocommerce Wholesale Plugins
Whols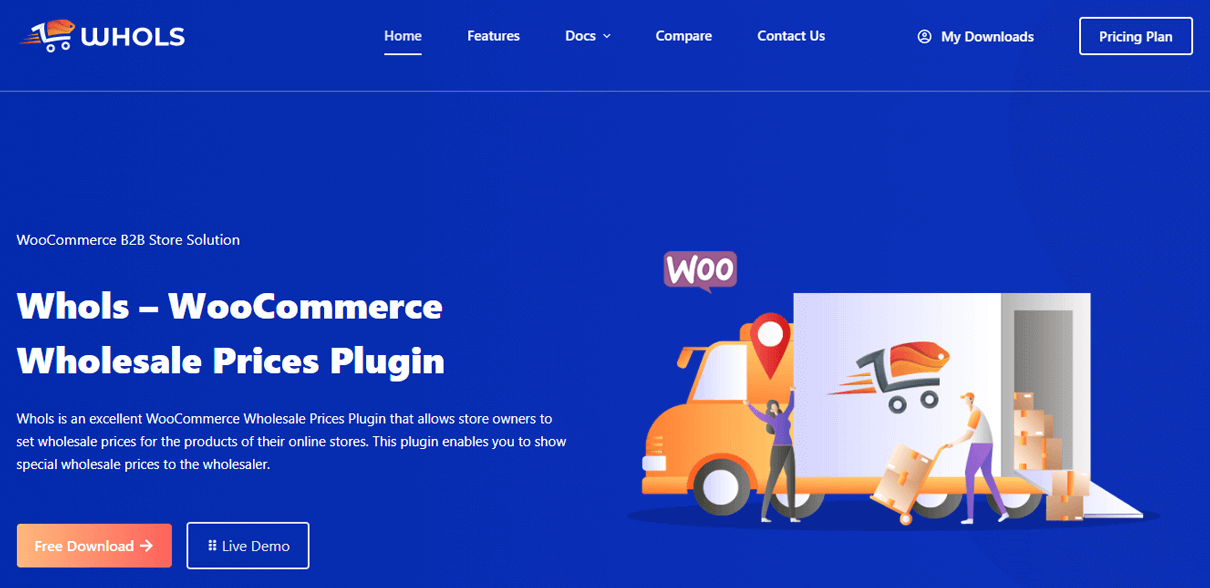 For those looking to maximize their success and profits through wholesale practices, Whols WooCommerce Wholesale Prices Plugin is an invaluable tool. The Whols WooCommerce Wholesale Prices Plugin is designed to make it simpler for store owners to set and control wholesale prices across a range of products.
This comprehensive plugin enables store owners to easily create discounted prices exclusively for wholesalers, allowing them to reap the advantages of such deals, such as better profits and an increase in customer traffic.
It provides store owners with an instant solution for controlling pricing in multiple scenarios and encourages businesses to provide outstanding offers to their customers. Not only does it provide the ability to offer discounted prices based on different roles, but it also allows for easy acceptance or rejection of new wholesale customers.
By using this plugin, store owners can easily keep up with the ever-evolving needs of their wholesale customer base and ensure everyone is treated fairly with regard to pricing.
Key Features
Wholesaler Registration
Registration Fields Manager
Set Default Wholesaler Role For Wholesale Registration
Wholesaler Request Management
Category Wise Product Price Set
Pricing
Yearly-
1 website for $79
5 websites for $149
Unlimited websites for $249
Lifetime-
1 website for $199
5 websites for $299
Unlimited websites for $499
WISDM Customer Specific Pricing

WISDM Customer Specific Pricing for WooCommerce is the perfect solution for businesses that want to offer dynamic prices based on purchase quantities. This popular plugin allows wholesale buyers to quickly and easily choose product-specific pricing tailored to their individual needs.
WISDM is a comprehensive tool that consolidates multiple plugins into one helpful solution, making it easy to manage large wholesale orders. With WISDM by your side, your store can open up new opportunities with fast and reliable pricing.
WISDM Customer Specific Pricing helps you make sure that each customer gets the personalized shopping experience they deserve. This feature empowers you to set individual prices for customers, allowing them to take advantage of Role-Based Discounts and creating a sense of belonging.
What's more, you're able to provide customized shop page options so each buyer can easily access what they need from this Woocommerce wholesale plugin. With WISDM Customer Specific Pricing, you can give your customers an unbeatable buying experience.
Key Features
Personalized shop page
Set individual prices for every customer
Increase memberships by offering role-based discounts
Offer store-wide discounts in a single click
Pricing
Annual-
WISDM Customer Specific Pricing for $80
WooCommerce Advisor for $111
Sales Booster Pack for $121
Lifetime-
WooCommerce Advisor for $111
Sales Booster Pack for $121
Wholesale for Woocommerce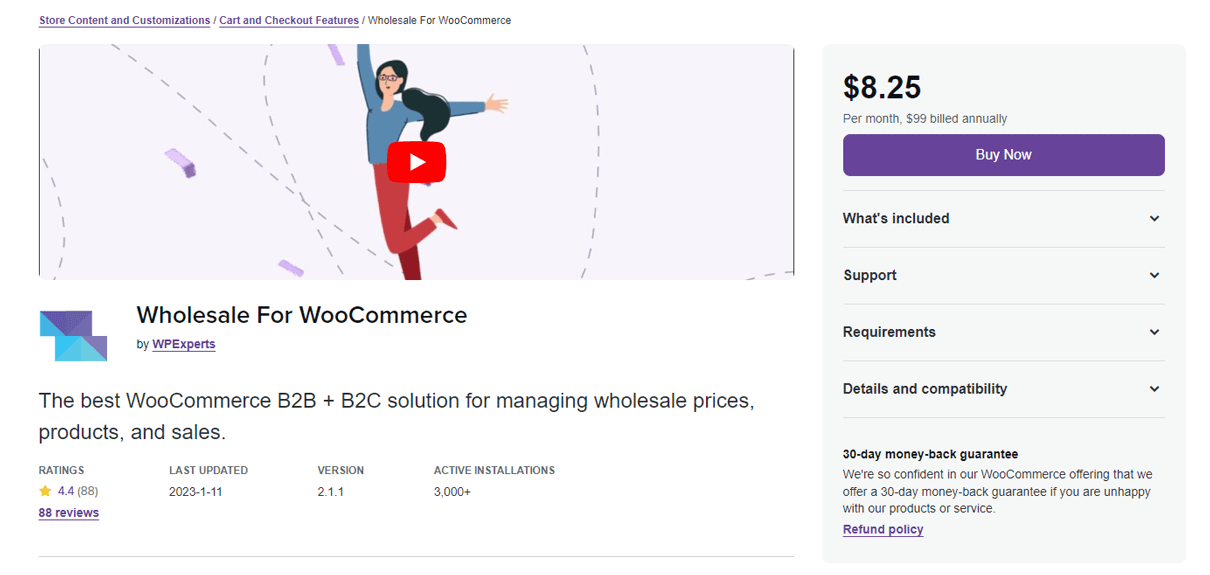 If you're looking to streamline your e-commerce business and take it to the next level, then look no further than Wholesale for WooCommerce. It offers a comprehensive solution to effortlessly manage both B2B and B2C sales in one place, with no costly setup fees or complicated platform integration.
By allowing businesses to quickly sign up their wholesale clients on a dedicated section through their website, Wholesale for WooCommerce decreases operational costs, ensuring consistent growth opportunities at lower risks. With the help of this intuitive tool, you'll be able to maximize profits by easily managing your entire hybrid store in one central location.
With this plugin, you can create multiple user roles and assign them different prices, discounts, and product visibility settings, as well as a minimum or maximum quantity/step on any product individually.
This easy-to-use Woocommerce wholesale plugin can be used for global pricing, category-based pricing, and product-based pricing to ensure that your store offers competitive deals for its wholesale customers. Streamline the way in which you handle your store's wholesale transactions today with Wholesale for WooCommerce.
Key Features
Easy-to-use back-end interface
Build a residual income stream
Developer friendly & optimized
No coding required
Pricing
$99 per year
$8.25 per month
Wholesale Market for WooCommerce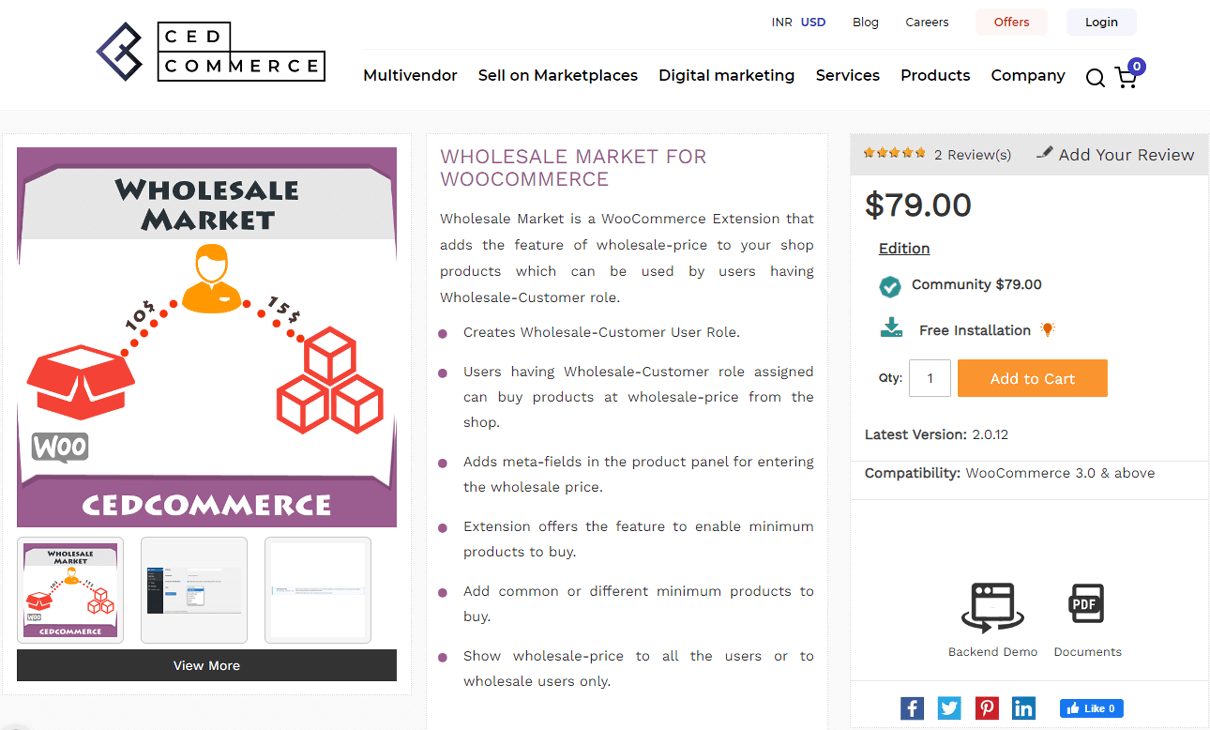 The Wholesale Market for WooCommerce is an incredibly helpful tool for shop owners who are looking to offer discount prices to their customers. This extension has been designed with functionality in mind, allowing customers who have the right permissions to access exclusive wholesale prices on any product within the shop. It's a great way of rewarding loyal shoppers with discounts, which will ensure they continue to come back and shop at your store.
The Wholesale Market for WooCommerce simplifies this whole process and makes it easier than ever to offer your customers tailored pricing solutions. This automated Woocommerce wholesale plugin conveniently adds meta-fields in the product panel where the wholesale price can be specified.
Additionally, this plugin offers the feature of setting a minimum purchase requirement — whether this is a common number across all products or different numbers for each item — which helps maintain sound stock management practices. WooCommerce wholesale plugins such as Wholesale Market for WooCommerce provide seamless usability and organization when handling larger orders.
Key Features
Creates a user role for Wholesale-Customers
Translation Ready
WPML Compatible
Easy Customization
Wholesale-Price on the shop page as well as every product page
Pricing
Single site – $69 per year
Dynamic Pricing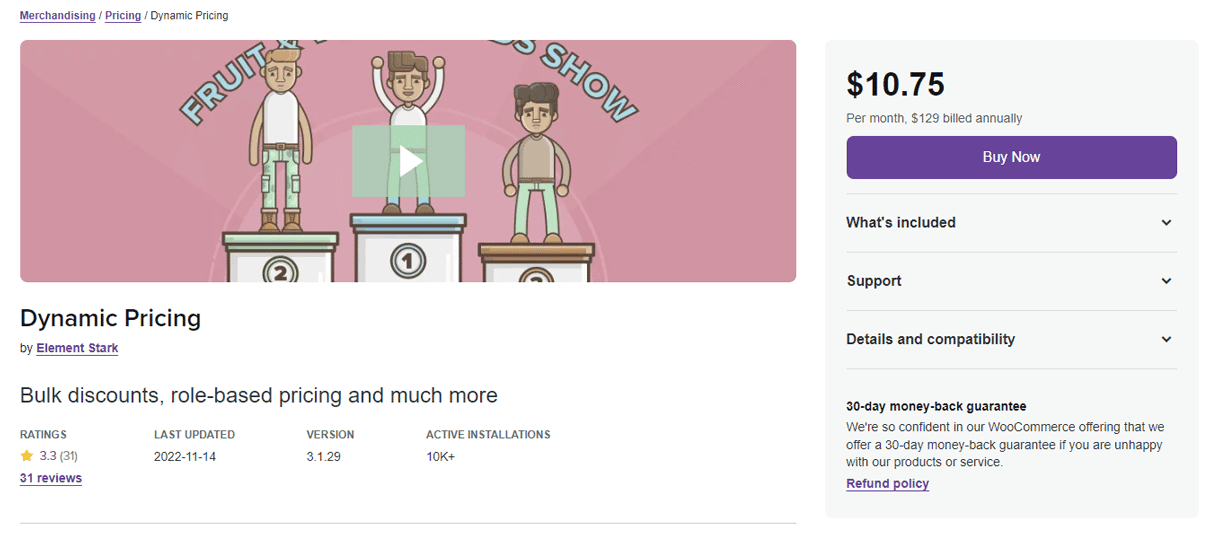 This dynamic pricing plugin includes advanced product pricing, allowing you to adjust the price of the product based on established criteria. For example, it could be adjusted based on the volume purchased by a particular customer or the number of items bought at once.
Not to mention, this plugin also opens up the door to unique opportunities regarding customer loyalty. You can give special privileges and discounts to those who have bought more often or consider higher-value customers as "Gold members" and make use of that relationship accordingly. All in all, WooCommerce dynamic pricing is a great option for stores looking for an extra marketing edge.
Key Features
Advanced Product Pricing
Advanced Category Pricing
Simple Category Pricing
Simple Role Based Pricing
Pricing
$129 per year
$10.75 per month
Frequently Asked Questions
How can I ensure security when using a Woocommerce Wholesale Plugin?
It's important to choose a reputable plugin that is built on secure code. Look for one which is regularly updated to protect against digital threats and data breaches.
How can I integrate payment gateways into my store?
Most popular Woocommerce wholesale plugins come with integration for major credit card processors, allowing you to accept payments directly from your store.
Final Thoughts
With the huge selection of wholesale Woocommerce plugins available to sellers, it's crucial to find one that will ramp up your e-commerce store. Between plugins that let you customize user roles and payment gateways to options like bulk discounts and product visibility filters, choosing the right tools is essential. Ultimately, selecting a Woocommerce plugin compatible with your business strategy can help skyrocket revenue and propel growth. It might just be time to see what wholesale Woocommerce has to offer your bottom line!