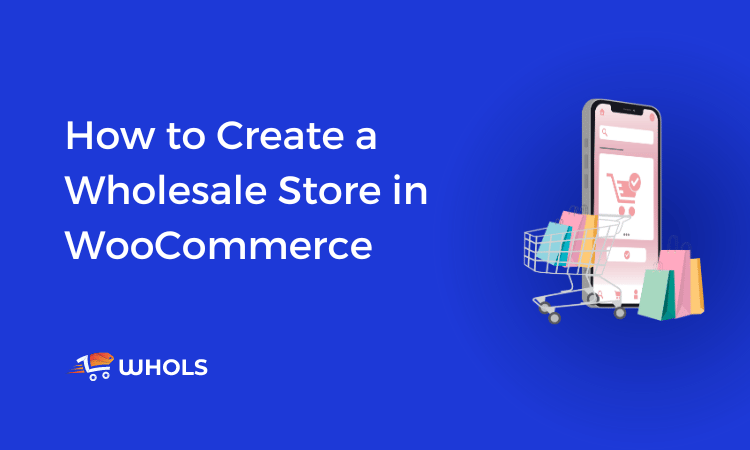 If you are looking to create a wholesale store in WooCommerce, look no further! In this article, we will show you how to use the Whols plugin to build a powerful and efficient wholesale store. Whols makes it easy for you to manage your inventory and set up pricing rules for your different products. Plus, it integrates seamlessly with WooCommerce, so you can keep using all of the features that make WooCommerce great. Follow the simple steps in this article, and you will be up and running in no time.
Benefits of Creating a WooCommerce Wholesale Store
•A wholesale store in WooCommerce can help you reach a larger audience by selling in bulk and offering significant discounts.
• A wholesale store can also help you to build relationships with other businesses by providing them with access to your products at wholesale prices.
• Ultimately, a wholesale store in WooCommerce can be a powerful tool for growing your business.
Some Remarkable Features of Whols Plugin
If you're running a wholesale store in WooCommerce, then Whols is a plugin worth checking out. With Whols, you can manage your inventory, pricing, and orders all in one place. And because it integrates with WooCommerce, setting up Whols is a breeze.
Here are just some of the remarkable features that make Whols stand out from the competition:
Wholesaler Registration
Restrict Visibility Of Product Category
Wholesale Order Type
Registration Fields Manager
Default Wholesaler Role For Registration
Redirect users to a specific page
Wholesaler Request Management
Different Pricing To Different Wholesaler Roles
Category-Wise Product Price Set
Category-based pricing for products of different roles
Restrict Wholesale Store Access
Website Access Restriction
Disabling Coupon Codes
Label Text Customization
Wholesale Pricing Possibilities
How to create a Wholesale store in WooCommerce using Whols Plugin
Follow some simple procedures below to create a professional-looking wholesale store in WooComemrce with the use of Whols plugin.
Step 1: Install and Activation
From the WordPress dashboard, go to Plugins > Add New
Now the 'Add Plugins Page will appear. Search for the plugin "Whols" in the "Search Plugins" placeholder.
After that, you'll find the Whols plugin. The next step is to click the install button to install it.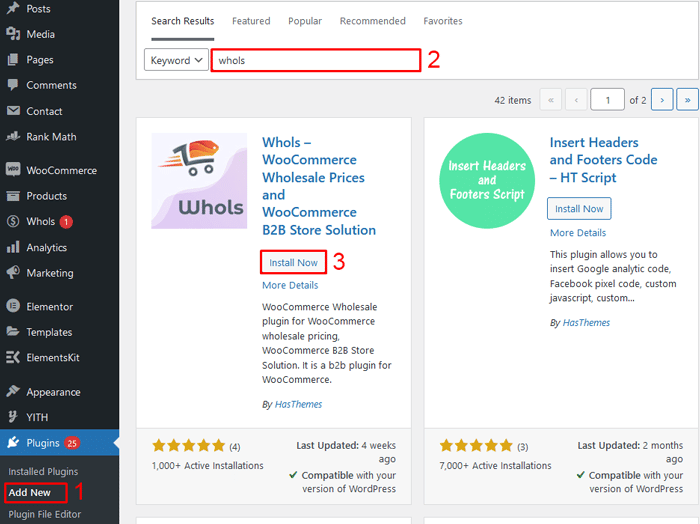 In another way, download it from the WordPress repository and go to Plugins > Add Plugins > Upload plugin. Then, upload the zip file of your downloaded Whols plugin choosing from the folder where you saved the file.
Then, activate the plugin in order to use its features. After you complete these steps, a new menu called "Whols" will appear.
If you want to install and activate the pro version of this plugin, upload the zip file of Whols Pro by going to Plugins > Add New > Upload Plugin.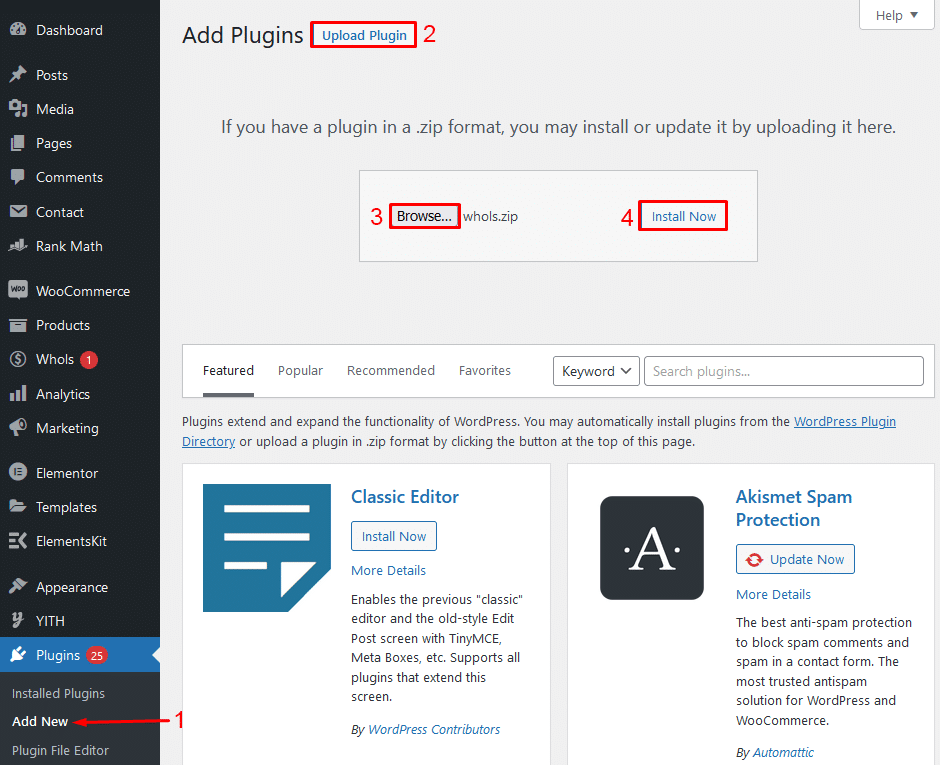 Step 2: Registration form setup

Once you have installed and activated the Whols plugin, the next step is to show the wholesaler registration form on a particular page. To do so, go to Registration and Login settings from Whols menu > Settings on your WordPress dashboard and navigate to the "Set up the registration page" field.
From there, select the specific page or copy this shortcode [whols_registration_form] to be placed on your desired page.
Step 3: Manage Wholesaler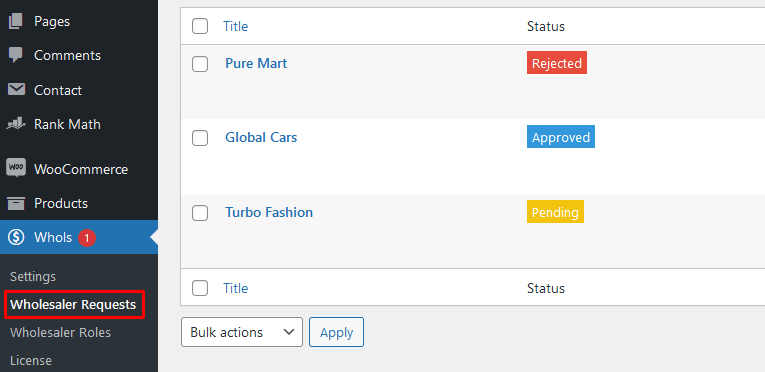 When someone fills up the registration form to apply as a wholesaler, you will find the wholesaler request on your Whols menu.
To manage the wholesale requests, go to Whols Menu > Wholesaler requests. By clicking each request, you can approve/reject it and assign the wholesaler a specific role.
Step 4: Pricing Model

In this step, we will show you how to set up various pricing models for wholesalers.
To do so, first off, navigate to Whols Menu> Settings > General Settings > Pricing Model.
There are two types of wholesaler pricing models, which are single role based and multiple-role-based.
Single Role Based: If you want to set a single price for wholesalers, choose the option.
Multiple Role Based: If you want different prices for each type of wholesaler, choose this option.
Step 5: Set Wholesale Price
In this step, we will show you how to set wholesale prices for individual products. To set the prices for individual products, go to Products>All Products then click "Edit" on your desired product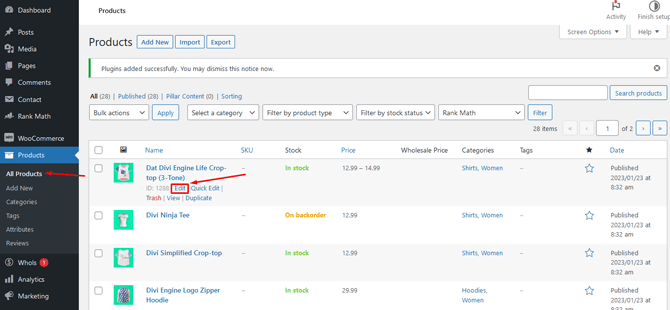 In WooCommerce, you can set wholesale prices for two types of products, which are simple products and variable products.
Simple Product:

To set the prices for simple products, go to the edit screen of the particular product. Then go to the general tab. There you will find the option to set wholesale price and minimum quantity.
Variable Product: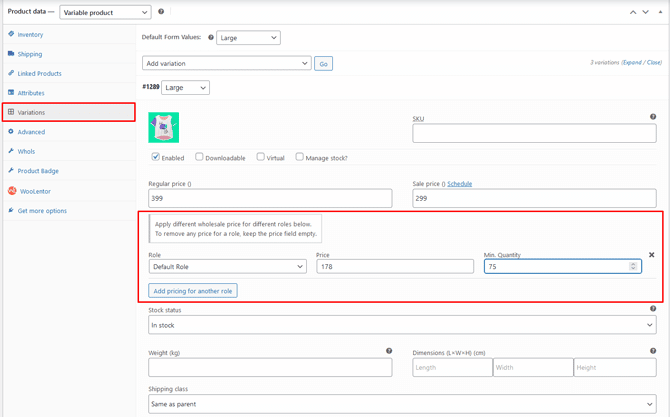 To set wholesale prices for variable products, go to the product edit screen of your desired product. After that, navigate to the Variations tab and click on the particular variation of the product for which you want to set the wholesale price. After opening/expanding the variation, you can set the wholesale price and minimum quantity of different variants of the product.
By following the steps mentioned above, you can set wholesale prices for both simple and variable products with ease.
Now let's explore how to set wholesale prices globally.
To do so, let's go to the General Settings from the Whols menu. Then you can see an option named "Enable This Pricing." Enable the switcher to activate wholesale prices globally, and under that option, there are plenty of other options to set the price type, price value, minimum quantity, etc. Configure all these basic settings and set the wholesale prices globally from here.
Step 6: Other Options
Guest User Restriction: If you want to restrict the access of guest users to your site/store, browse Whols Menu > Settings > Guest Access Restriction. Going there, you have to switch on "Yes" in the "Hide Price For Guest Users" field if you want to enable the option to show the price only for those users who are logged in.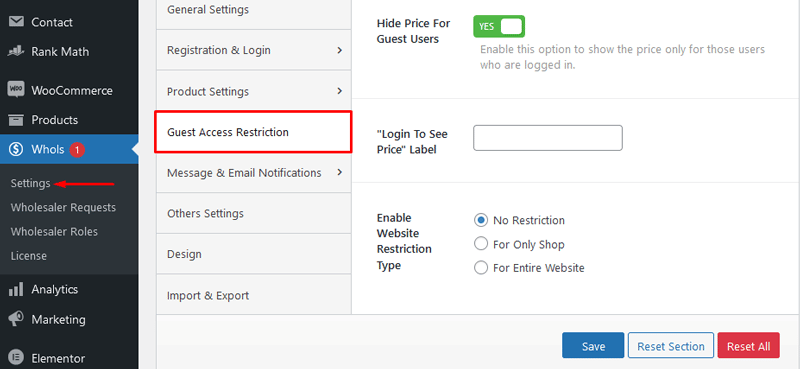 Hide Wholesaler Only Products: In the Whols plugin, you also have the option to hide "wholesaler-only products" from the general customers and general products from wholesalers. Note that a "General Product" is any product that is not marked as "wholesaler only" from the product edit screen. To configure this setting, go to Whols Menu> Settings > Product Settings. Tick the "Yes" checkbox for your desired settings.

Step 7: Enable Wholesalers Only Price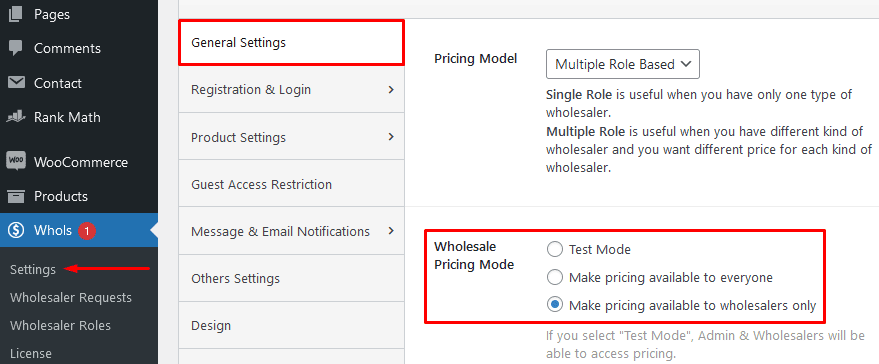 Once you are done customizing all the settings, don't forget to test the functionalities. There are three modes in which you can test if everything is working perfectly in your Wholesale store.
Go to Whols Menu > Settings > General Settings > Wholesale Pricing mode. There you'll see three options in the radio buttons, which are:
Test Mode: If you select test mode, admin & Wholesalers will be able to access pricing.
Make pricing available to everyone: By choosing "Make pricing available to everyone," you allow access to pricing to everyone visiting your store·
Make pricing available to wholesalers only: If you choose "Make pricing available to wholesalers only," the pricing will only be available to wholesale customers.
How the Whols Plugin Works (Complete Guideline)
Frequently Asked Questions
Q1.What is the Whols WooCommerce plugin?
Whols is a WooCommerce plugin that allows you to create a wholesale store. It lets you offer discounts and manage inventory for your wholesale customers.
Q2. How do I install and activate Whols Plugin?
To install Whols, log in to your WordPress dashboard, go to the Plugins page, and click Add New. Search for "Whols", and click Install Now. Once it's installed, click Activate.
Q3. How do I create a wholesale store in WooCommerce?
With Whols, creating a wholesale store on WooCommerce is easy. Just follow the few simple steps to get started. After activating it, navigate your way through its menu from the dashboard and enable retail pricing in no time. Assign roles accordingly and manage inventory.
Q4. Can I set minimum order quantities using Whols?
Yes, you can set minimum order quantities for your wholesale products using the WooCommerce Whols plugin. Simply go to the "Pricing" tab for each product and enter the minimum quantity that must be purchased. You can also specify whether the minimum quantity applies to each variation of the product or just the product as a whole.
Q5. How much does the Whols WooCommerce plugin cost?
The WooCommerce Wholesale plugin is a free plugin. However, you will need to purchase the premium version with more exclusive features. Premium packages start at $79 per year.
Conclusion
WooCommerce provides an excellent foundation for building a successful wholesale store. One of the biggest advantages is that WooCommerce is a very popular platform with a large community of users. This means that there are a lot of wholesale store owners who are able to offer support and advice.
Whols is a wholesale store plugin for WooCommerce that helps you sell products to wholesale customers. The plugin comes with a number of features that make it easy to manage wholesale orders, including the ability to set minimum order quantities, offer discounts, and track inventory.
Whols also makes it easy to create a wholesale customer account and manage wholesale prices. Overall, the Whols plugin is a great option if you're looking for an easy way to create a wholesale store in WooCommerce.