If you are running a WooCommerce store, then you know that managing your inventory can be a difficult task. This is especially true if you are selling wholesale products. Therefore, you need a tool to help you manage your inventory and keep track of your sales data. A WooCommerce wholesale manager plugin such as the Whols WooCommerce wholesale Pro plugin can do that. This blog post will discuss the benefits of using a WooCommerce wholesale manager plugin for your business.
Benefits of using WooCommerce Wholesale Manager Plugin
Running a successful online store requires the owner to address customers' needs efficiently and seamlessly. A WooCommerce Wholesale Manager Plugin provides retailers with an immense variety of features that can help them stay ahead, such as –
Automates inventory management and order tracking
Automating the process of inventory management helps eliminate manual data entry, freeing up time for other essential tasks. It also ensures accuracy and reduces the chance of human error.
Additionally, store owners benefit from managing customer-specific pricing and special discounts better while providing customers with quick access to relevant product categories.
Streamlines communication with wholesale customers
A WooCommerce Wholesale Manager Plugin can help streamline communication with wholesale customers. By keeping track of customer information and orders in one place, you can quickly and efficiently respond to any questions or concerns that arise.
Helps to increase sales by making it easier for wholesale customers to place orders
This Plugin makes it easier for customers to view and place orders quickly, taking away some of the administrative burdens of sales management. Instead of contacting each customer individually or working through multiple pages, this Plugin allows customers to review pricing and access restricted products easily.
Allows you to set up discounts, rewards, and loyalty programs for your wholesale customers
A WooCommerce Wholesale Manager Plugin makes it easy by helping you set up discounts, rewards, and loyalty programs to offer your wholesale customers incentives for returning to your store. With this WooCommerce wholesale pro Plugin, attracting more customers and building relationships with them at a fraction of the cost associated with traditional methods is possible.
Not only will it help your business reach more customers, but it's also an efficient way to track customers' return rates and give them an added incentive to stay with you as their supplier of choice.
Helps you to control the prices of products for different customers
This incredible tool helps maximize your profits by allowing you to set different prices for different customers. Not only will this help you provide better customer service to your loyal customers and offer special deals to attract new customers, but it also prevents wholesale price issues with competitors. In addition, with the simple click of a button, you can manage wholesale prices fast and efficiently, giving you more time to concentrate on growing your business.
Gives you more control over who can access and view your wholesale pricing.
A WooCommerce Wholesale Manager Plugin provides a comprehensive suite of features to help businesses that offer different wholesale prices as wholesale customers. With this invaluable tool, small business owners can maintain access control features so that only intended personnel have the ability to view pricing.
It is especially useful for businesses with exclusive deals or discounts that are only meant for certain clients. Not only does it allow owners to set and adjust their own pricing, but it can also place restrictions on which people can view a particular price to protect sensitive information.
Whols – WooCommerce Wholesale Prices Plugin
Whols is an excellent WooCommerce Wholesale Prices Plugin that allows store owners to set wholesale prices for the products of their online stores. This plugin enables you to show special wholesale prices to the wholesaler.
Key Features of Whols- WooCommerce Wholesale Manager Plugin
If you are looking for an ideal and standard WooCommerce wholesale plugin, consider Whols- WooCommerce wholesale manager plugin. It is an excellent solution for businesses seeking to enhance their eCommerce operations by integrating wholesale functions seamlessly.
With its professional and easy-to-use interface, this plugin simplifies wholesale management, allowing you to create and maintain a distinct wholesale area within your WooCommerce store. Some of the key features include —
Wholesaler Registration
This Plugin lets customers easily register for the program, providing their company name and contact information. Once approved, they are given access to wholesale pricing and other beneficial features in larger-scale purchases. Additionally, the Plugin offers a variety of options such as customizing store pages specifically for your wholesale customers' needs or monitoring purchase history.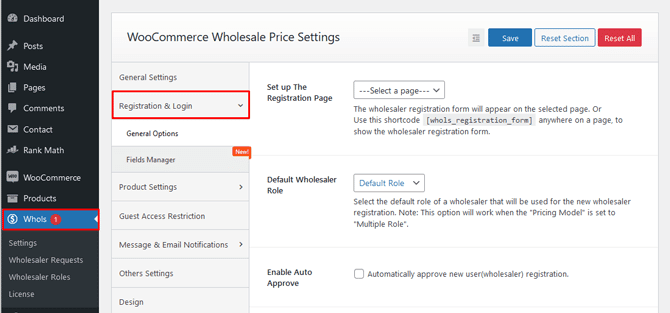 Registration Fields Manager
The Whols- WooCommerce Wholesale Manager Plugin has many useful features from which retail businesses can benefit. One of them is the Registration Fields Manager. This feature makes it easier for retailers to create wholesale registration forms by customizing which fields are necessary for new users to complete to access the WooCommerce store outlet. The Plugin also permits retailers to configure user groups, assign categories, and more.
Set Default Wholesaler Role For Wholesale Registration
With this WooCommerce Wholesale Pro Plugin, you can easily set the default wholesaler role when creating a new account. It is a time saver and allows you to quickly manage the type of user access from both sides of the equation: customer and retailer. This Plugin also makes it easy to distinguish between regular customers, wholesalers, distributors, and other groups that can be assigned specific roles.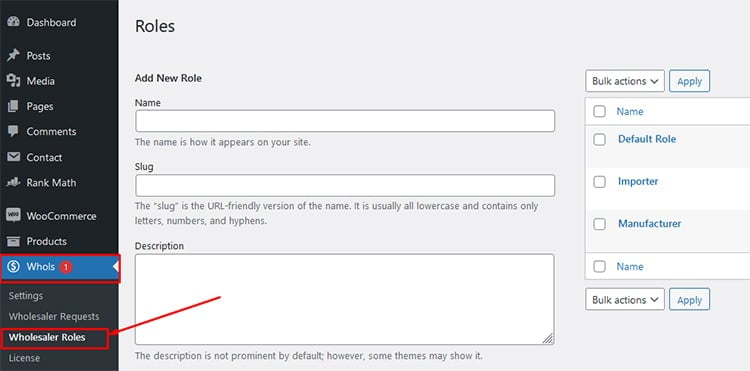 Redirect To A Specific Page After Completing The Registration
The Whols- WooCommerce Wholesale Manager Plugin offers an amazing feature that allows you to control and manage the registration process for wholesale customers. With the help of this Plugin, you can create a wholesale registration form page with custom fields and send users to a specific page after they submit their registration forms. It is especially useful if you want to direct customers to specific sections of your website or send them a unique promotion code after registering.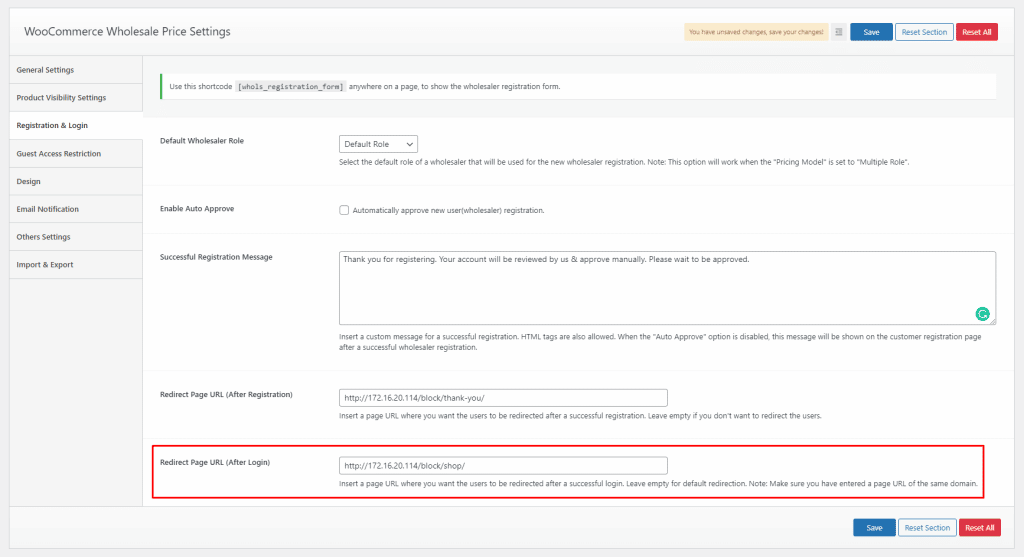 Wholesaler Request Management
The WooCommerce Wholesale Manager Plugin provides wholesalers with the necessary tools to manage their up-and-coming business. One of its most useful features is Wholesaler Request Management, which allows the wholesaler to grant and manage user access from the backend of their website.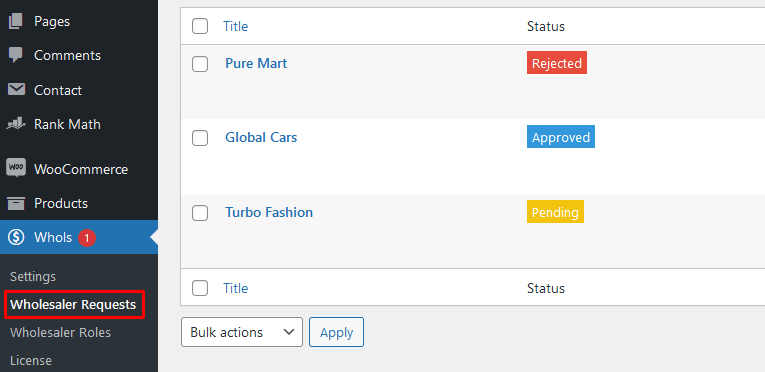 This will streamline the process, allowing users to easily submit requests directly from the front end and automatically set up user accounts and permissions. With this feature, wholesalers can confidently decide who should have access to their site's products, inventory, pricing, and more, saving time and remaining secure against unwanted third parties.
Category Wise Product Price Set
The Key Features of Whols WooCommerce Wholesale Manager Plugin include setting product prices based on category. It allows retailers to have different pricing depending on what item they're buying, allowing them to customize their purchases and not overspend when paying for large orders.
This Plugin also includes bulk management tools that enable retailers to quickly adjust product prices, adding discounts and other specials without manually going through the entire list.
Restrict Wholesale Store Access
Wholesale Manager for WooCommerce is the perfect Plugin for any business looking to offer customers a restricted wholesale store. This WooCommerce wholesale Pro Plugin can be easily installed, it gives you the control to grant access only to certain users and let others wholesale store in regular mode.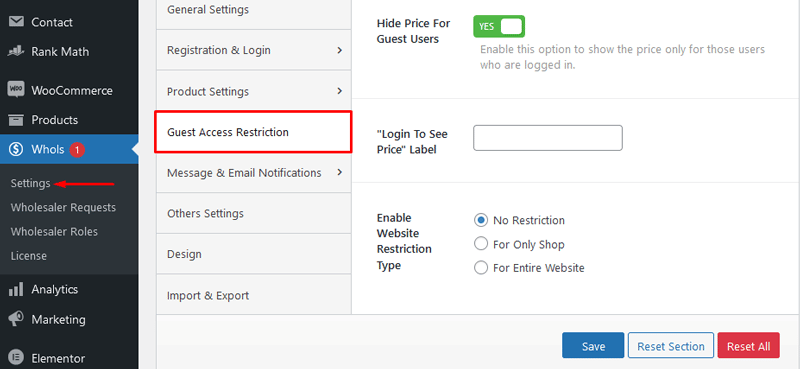 In addition, with Wholesale Manager, there is an array of features that further customize the wholesale experience. These features include optional custom wholesale registration form fields, creating wholesale user roles, amazing customer support, and many more.
Label Text Customization
Whols, the WooCommerce Wholesale Manager Plugin, offers powerful customizability for its users. A key feature of this Plugin is the ability to customize labels of products and categories to meet each user's specific needs. You can change or override the label of any product category or shop settings, giving you a high level of control over how your product distinctions are presented.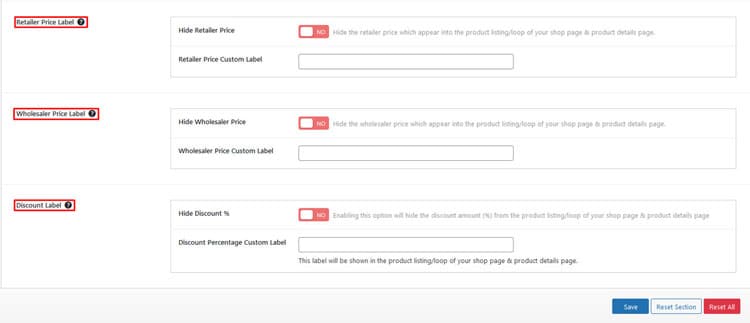 Invoice Payment Method
The WooCommerce Wholesale Manager Plugin features an invoice payment method. This highly secure and reliable system simplifies the ordering process for customers as they can pay with a single invoice for multiple orders, streamlining their entire purchasing experience. Furthermore, invoices can be generated automatically for orders to provide an even more efficient shopping experience.
Wholesale Customer Order Reports
This provides wholesale store owners invaluable data ranging from viewable financial statements to itemized purchase orders, helping them run their wholesale stores more efficiently and effectively. Besides simplifying their processes, this helpful feature gives business owners critical insights into their customers' ordering habits and preferences.
Tips for getting started with the Whols- WooCommerce Wholesale Manager Plugin
For those looking to get started with the WooCommerce Wholesale Manager Plugin, there are several tips you need to keep in mind.
Firstly, you can add wholesale users manually. It is a low-effort way for those beginning with their wholesale experience.
You can also convert your existing customers to wholesale users as another simple option that can be done quickly and efficiently.
Finally, you can bulk import your users into the Plugin in one go, which is great for large-scale operations but may require more expertise than manual user additions or conversions. No matter your route, the Plugin gives you great options to get off the ground running!
Frequently Asked Questions
What is the Wholesale Manager Plugin in WooCommerce?
The WooCommerce Wholesale Manager Plugin is a powerful and easy-to-use tool designed to streamline the process of managing wholesale customers, orders, and payments. It allows you to set up separate user roles for buyers and sellers, set WooCommerce product pricing for each customer, use custom wholesale price lists, provides discounts on bulk orders, and more.
How does the WooCommerce Wholesale Plugin make managing my business easier?
The Plugin simplifies your wholesale management process by allowing you to quickly and easily make changes to user roles and permissions, manage WooCommerce product prices per customer or group, offer discounts on bulk orders, track sales & purchase histories, view pending orders in one place, communicate with customers securely via a contact form and much more!
Does the WooCommerce Wholesale Manager Plugin integrate with other eCommerce platforms?
Yes! The WooCommerce store plugin integrates seamlessly with popular third-party payment gateways like PayPal and Stripe and popular eCommerce platforms such as Shopify & Magento.
Conclusion
In conclusion, the WooCommerce Wholesale Manager plugin offers a comprehensive solution for setting up a WooCommerce store easily and intuitively. It allows WooCommerce store owners to assign different pricing levels, discounts, and payment methods to customers based on their respective roles. The Plugin also adds powerful features like automated content delivery to make it easier for customers to find what they need quickly and make purchases quickly