Are you looking for an easy, efficient way to set up WooCommerce Wholesale Products? The right plugins can make the process smoother and more streamlined. From simplified ordering processes to automated customer notifications, these five plugins make it easier than ever to get started with WooCommerce Wholesale Products. Read on to learn more about each one.
What is WooCommerce Wholesale Products?
WooCommerce Wholesale Products are products that can be offered at a lower price to wholesale customers than the retail pricing. Wholesale products are frequently offered in bulk to businesses at a lower price than the retail price to reflect the bulk discount.
Benefits of Using a Plugin to Set Up WooCommerce Wholesale Products
Setting up a WooCommerce wholesale store has gotten easier with the emergence of plugins that simplify the process. These plugins are especially beneficial since they come with built-in features that make it easier for the shop owner to manage the store.
This includes discounts, registration and checkout elements, wholesale ordering options, and special customer privileges like passwords or account types. Some of the benefits of using a plugin to set up WooCommerce Wholesale Products-
Automates the entire workflow of setting up and managing a WooCommerce wholesale product store
Increases productivity by simplifying time-consuming, repetitive tasks such as creating user roles and assigning them to specific products
Enables merchants to set different pricing schemes depending on user roles and product categories
Can automate customer account creation and approval processes
Allows customers to track their order history, view invoice details, and view/manage their accounts from one platform
All customer information is securely stored in a centralized database for easy access and management
5 Best Plugins for Setting Up WooCommerce Wholesale Products
Here is the list of 5 best plugins to show your WooCommerce wholesale products in our picks. Have a look at them and choose the one that fits your requirements best.
Whols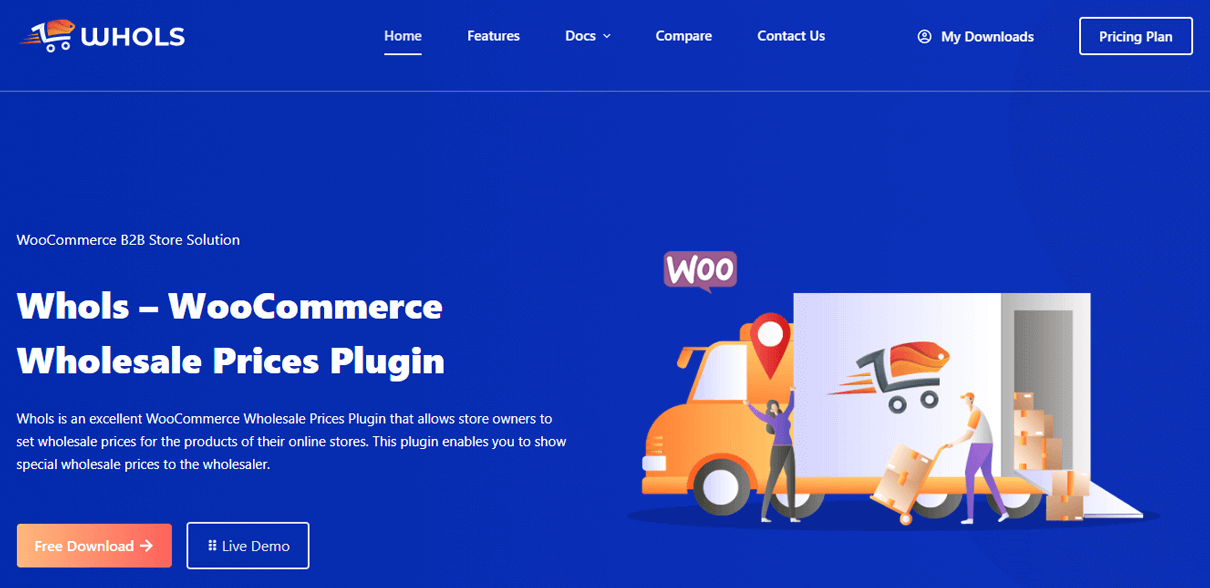 For business owners looking to make the most of their WordPress WooCommerce stores, the Whols WooCommerce Wholesale Prices Plugin is an ideal tool. It's designed specifically for store owners emphasizing wholesale orders, allowing them to easily create and adjust pricing structures across all products in their shop.

Whols offers a variety of features, making it easier than ever to get started with WooCommerce wholesale products.
First off, the Whols registration feature allows you to create custom registration fields for your store's customers. This makes it easier for customers to sign up and purchase as they only need information that is specific to their role as a wholesaler.
Once customers have signed up, you can use Whols' Hide Prices from Regular Customers option to keep regular customers from seeing wholesale prices on products. You can also use the Default Wholesaler Role For The Wholesale Registration feature to make sure that the correct user credentials are given when people register for access to wholesale prices on products.
In addition, Whols also offers Wholesaler Request Management, which allows you to manage requests from existing and potential new customers who want wholesale access. And lastly, Category Wise Product Price Set lets you offer customized pricing per category so your customers get the most out of their shopping experience.
Overall, Whols is an excellently designed plugin that simplifies the process of setting up WooCommerce wholesale products with ease – perfect if you're looking for a streamlined setup process with minimal fuss involved.
Key Features
Wholesaler Registration
Registration Fields Manager
Hide Wholesale Prices from Regular Customers
Set The Default Wholesaler Role For The Wholesale Registration
Wholesaler Request Management
Category Wise Product Price Set
Pricing
Yearly-
1 website for $79
5 websites for $149
Unlimited websites for $249
Lifetime-
1 website for $199
5 websites for $299
Unlimited websites for $499
WooCommerce B2B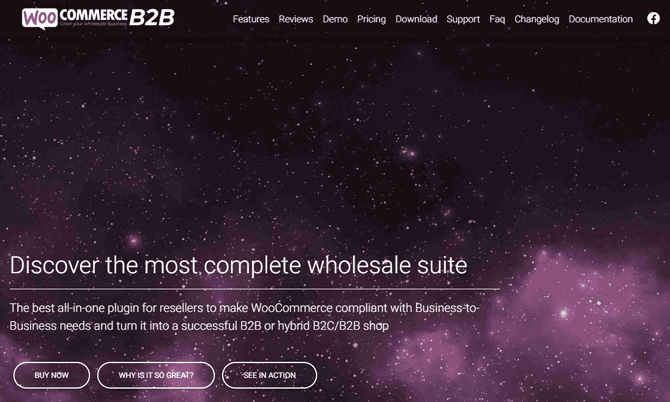 With WooCommerce B2B, customers can securely store all their customer information while also having access to several user roles with various privileges attached. The plugin gives customers the ability to price items according to their desired way, such as discounts and payment terms specific to wholesale buyers, thus making sure that they stay competitive in the ever-evolving e-commerce market. 
Additionally, they have the option to show visitors product prices with taxes included or generate individual customer groups and provide extra discounts to each group. All of these features, in combination with WooCommerce's shop management system, allow businesses to easily control their inventory and increase overall sales performance. With WooCommerce Wholesale Products, businesses can take complete control of their pricing structure and ensure that all of their customers get the best deals possible.
WooCommerce B2B allows shop owners to easily differentiate catalog price lists between different customer groups, giving them a great customer experience for both individual and business customers. This feature-rich plugin has everything resellers need to customize product listings, manage order fulfillment and track customer credit balance.
Key Features
Hidden prices and stocks
B2B dedicated prices
Prices by quantity
Quotation system
Pricing
Regular License: $99
Extended License: $199
Barn2 WooCommerce Wholesale Pro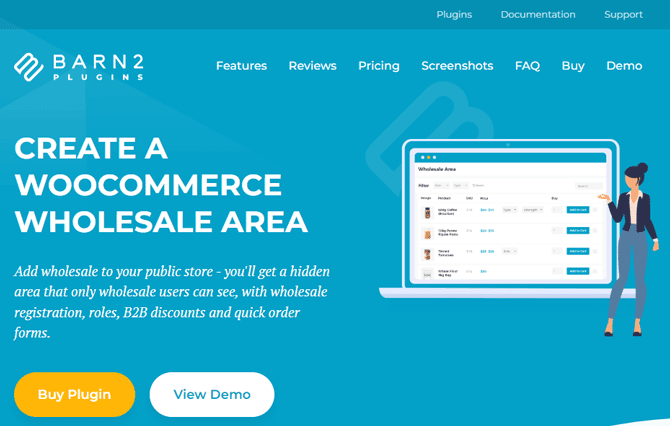 Barn2 WooCommerce Wholesale Pro is another perfect plugin for businesses looking to enhance their wholesale capabilities. It helps you make your WooCommerce shop more organized and efficient by managing both retail and wholesale customers independently.
It's easy to configure and implement, allowing merchants to stay in control and customize the experience according to their individual goals.
WooCommerce Wholesale Pro gives you the ability to create discount codes, set minimum order quantity limits, assign special taxes and pricing, and customize branding all with a few simple clicks. This unique plugin offers an ideal solution for any business that is selling its products in bulk or setting up separate catalogs for retail and wholesale users; it truly simplifies the process of running a WooCommerce store at scale.
With its flexible pricing options, you can quickly create unique discount structures and provide natural discounts to your wholesale customers. Furthermore, WooCommerce Wholesale Pro provides a customizable signup form where customers can apply for an account online.
WooCommerce Wholesale Pro is definitely worth considering for WooCommerce stores looking to create engaging wholesale opportunities!
Key Features
Advanced wholesale pricing discounts
Easily add wholesale users
One-place wholesale order forms
Pricing
Two Plugin Bundle: $149
One Plugin: $99
IGNITEWoo WooCommerce Wholesale Suite Pro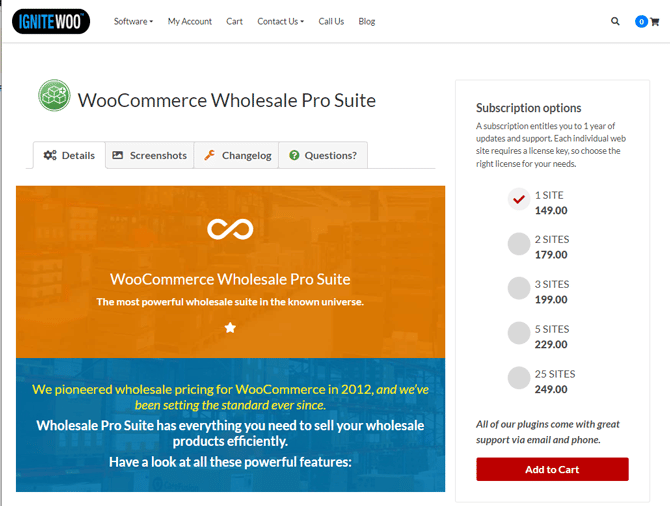 If you're looking to take your WooCommerce store to the next level, IGNITE Woo WooCommerce Wholesale Suite Pro might be just what you need. This WordPress WooCommerce plugin is made for setting up a successful sound online store, with an array of powerful features that enable merchants to manage and create an efficient wholesale e-store.
With no limitation on WooCommerce Wholesale products, this plugin provides powerful tools and pricing customization options, as well as various user groups that make it easier to divide customers into different tiers.
This powerful suite of products allows merchants to easily set up a wholesale section on their websites and offer exclusive deals on a variety of WooCommerce wholesale products. It's extremely simple to configure the different price points that customers can see, so retailers can ensure they're offering a tailored experience while minimizing any trouble with markups or discounts.
All in all, with this plugin at the shopkeeper's disposal, they can easily navigate the challenges of running a WooCommerce business on both ends of the revenue spectrum.
Key Features
Multi-Tier Role-Based Pricing
Quantity Discounts and Cart Discounts
Global Role Pricing
Display Prices With or Without Tax
Invoice Payment Gateway
Pricing
1 site for $149.00/year
2 sites for $179.00/year
3 sites for $199.00/year
5 sites for $229.00/year
25 sites for $249.00/year
WooCommerce Wholesale Price – Booster for WooCommerce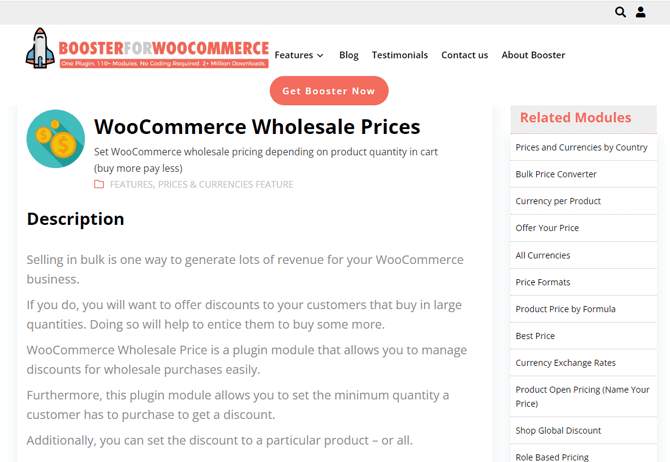 WooCommerce Wholesale Price – Booster for WooCommerce is an incredibly helpful plugin module that can help you grow your business. It gives you the capability to manage discounts for wholesale purchases simply and easily, with features such as setting the minimum quantity required for customers to take advantage of those discounts and apply them to a select group of WooCommerce Wholesale Products or all products in total.
This plugin allows you to easily create WooCommerce wholesale products, apply discounts to customers' orders, set up tiers-based discounts, and display discount information on the cart page.
Additionally, its conditional discount functionality lets you choose when to invalidate the discount – based on whether other discounts are applied or the total quantity of products in the shopping cart.
As WooCommerce store owners strive for higher profit margins, this powerful yet user-friendly plugin will undoubtedly be an invaluable asset in helping them achieve their goals.
Key Features
Button & Price Labels
Emails and Additional Tools
Cart & Checkout Page
PDF invoicing and Packing Slips
Easy Setup and Navigation
Pricing
Personal: $11.99/month
Agency: $24.99/month
Freelance: $15.99/month
Frequently Asked Questions
How do I know which WooCommerce plugin is right for my shop?
Consider what type of products you are selling and how many customers you will be dealing with. Additionally, look at the features offered by various plugins and compare them to your needs.
How secure are these plugins when it comes to customer data?
All of the top WooCommerce plugins use SSL encryption to ensure that all customer data is kept safe and secure. Additionally, many offer two-factor authentication processes for added security.
Is there any cost associated with setting up a wholesale product store using one of these plugins?
Yes, depending on the plugin you choose, there may be monthly subscription fees or one-time setup costs associated with using a specific plugin.
Conclusion
With the right plugins, WooCommerce wholesale process can be made easier and more efficient.
 In all, the 5 Best Plugins for WooCommerce Wholesale Products provide an easy-to-use suite of tools to help business owners manage their wholesale sales. They also offer enhanced control and customization for any WooCommerce shop. Take your business to the next level by utilizing these powerful plugins and boosting your WooCommerce store with them.