WooCommerce has been an incredibly useful platform for businesses looking to set up online shops. For these businesses, the ability to set up wholesale pricing for their products is absolutely essential.
Finding the right plugins that offer this functionality, however, can be difficult. Fortunately, many options are available that are free of charge and provide powerful features and customization options. In this post, we'll discuss the 5 best free WooCommerce Wholesale plugins available today and how they can help your business make wholesale sales more accessible than ever.
What is WooCommerce
WooCommerce Wholesale Pricing Plugins offer an easy and effective way for WooCommerce store owners to manage their wholesale pricing. These plugins come with multiple features, such as creating special categories, user roles, and product types that can be used to limit access and create unique pricing options.
For example, you can set rules based on the customer type that determines the number of products they need to purchase to receive a discount. This way, you can ensure your store runs efficiently while catering to different kinds of customers, including wholesalers in a better manner.
Benefits of WooCommerce Wholesale Pricing Plugins
Shopping wholesale is a great way to take advantage of bulk purchasing, which can result in major savings. Fortunately, existing WooCommerce users can now leverage the power of free WooCommerce wholesale plugins to supercharge their businesses.
These free WooCommerce Wholesale Pricing Plugins offer dynamic pricing tiers, discounts, and a customized level of control needed to manage the entire B2B operation.
Additionally, the ease with which reports, customer accounts, and orders can be generated and managed to allow WooCommerce store owners to identify trends and capitalize on opportunities quickly. With WooCommerce wholesale pricing plugins, it's never been easier for business owners to save time and increase profits.
4 Best Free WooCommerce Wholesale Pricing Plugins
With more and more businesses exploring the potential of WooCommerce, finding the right tools to set up a wholesale pricing system can be challenging. Here are a few free WooCommerce Wholesale Pricing Plugins you can check out —
Whols – WooCommerce Wholesale plugin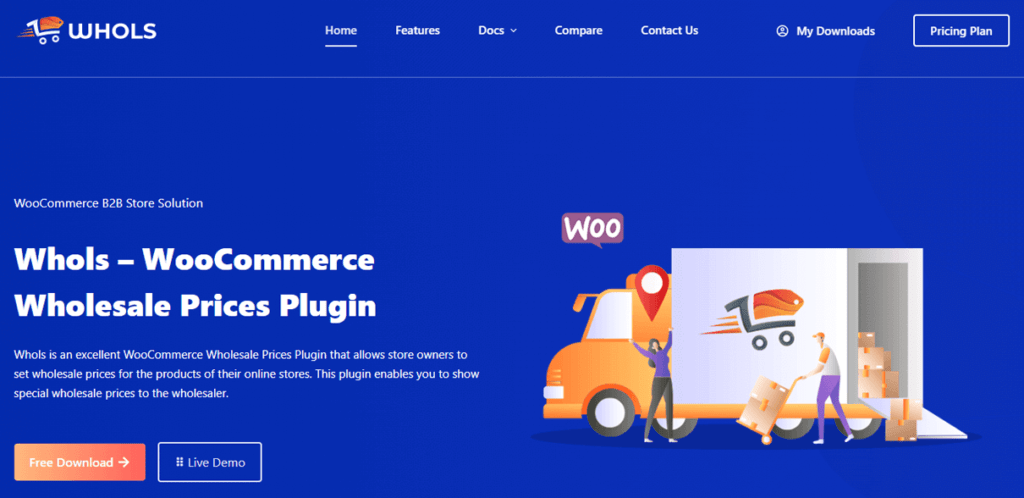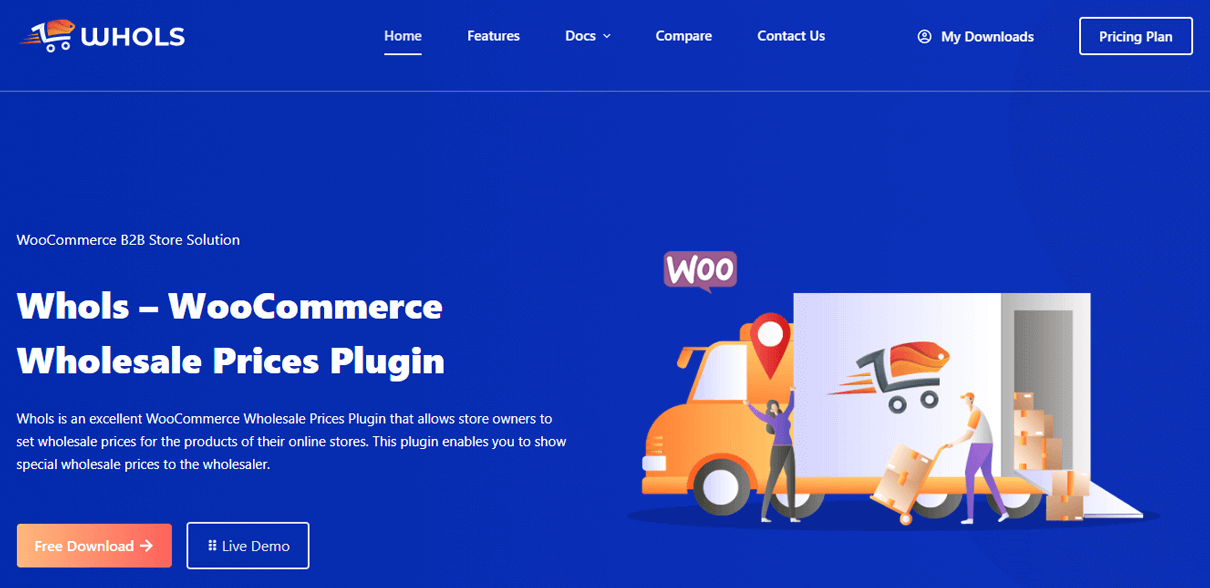 With Whols – WooCommerce Wholesale plugin, expanding your WooCommerce wholesale store to a B2B or B2B + B2C hybrid store is as easy as possible. This plugin provides all the tools and features you'll need to take your business to the next level. Thanks to its intuitive interface and custom configuration settings, setting up a wholesale shop with WooCommerce has never been easier.
With this plugin, you'll save time managing orders, wholesale customers, and products while optimizing the pricing plans of your store's items to suit each customer segment simply and effectively. There's no need to hire any extra help; install Whols – WooCommerce Wholesale plugin and watch your business grow.
Highlighted Features:
Responsive
Different Wholesaler Roles
Design Customizations
Easy-to-use backend interface
Pricing: There are 3 different pricing plans for Pricing Table by Supsystic:
1 Website Plan: $79/ Year
5 Website Plan: $149/ Year
Unlimited Website Plan: $249/ Year
Wholesale Suite – WooCommerce Wholesale Prices Plugin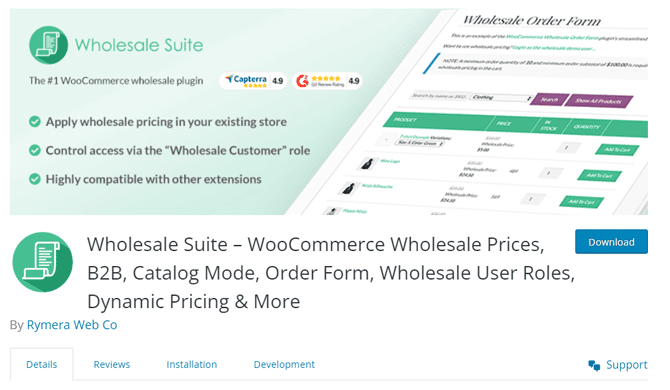 Managing a wholesale business can be challenging to keep organized and updated. With the WooCommerce Wholesale Prices plugin from Wholesale Suite, it can all be managed in one place for a straightforward price. Quickly expand your business into the biggest online marketplace with a few clicks that will transition existing WooCommerce wholesale pro products quickly and easily.
You no longer have to duplicate products to offer different pricing for B2B or B2C wholesale customers; dynamic discounts decrease the price as quantity increases, while tiered prices unlock deeper discounts for orders of increased quantity. Furthermore, you can easily set minimum or maximum order quantities and fixed user roles, allowing you to customize your product's availability based on what works best for your business.
Highlighted Features:
Automate Wholesale Customers Recruiting
Stock Management
Wholesale Tax Control
Shipping & Payments
Pricing: There are 2 different pricing plans for Pricing Table by Supsystic:
Growth Bundle Plan: $148.50/ Year
Business Bundle Plan: $298.50/ Year
WholesaleX – WooCommerce Wholesale Pricing Plugin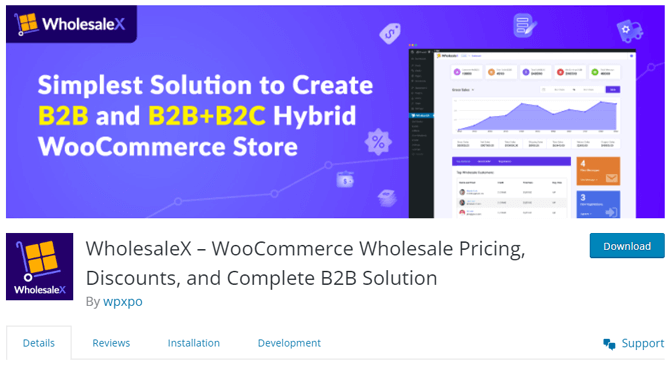 WholesaleX is the dynamic pricing plugin to get you started with your wholesale eCommerce business. It eliminates the hassle of building a lengthy rules system or a tiered pricing system from scratch, as they are already included in WholesaleX.
Wholesale customers will have no problem navigating through their accounts, restricting user roles, making purchases, and communicating with you via the built-in conversation system. You need to tweak a few settings, and your B2B store will be up and running in no time! With such an easy setup, nothing stops you from getting into wholesaling today!
Highlighted Features:
Built-in conversation system
WooCommerce Tiered Pricing.
Registration Form Builder.
Email Template Configuration
Role-based Restriction
Pricing: There are 3 different pricing plans for Pricing Table by Supsystic:
1 Website Plan: $89/ Year
5 Website Plan: $124/ Year
Unlimited Website Plan: $139/ Year
WooSuite – WooCommerce Wholesale Pricing Plugin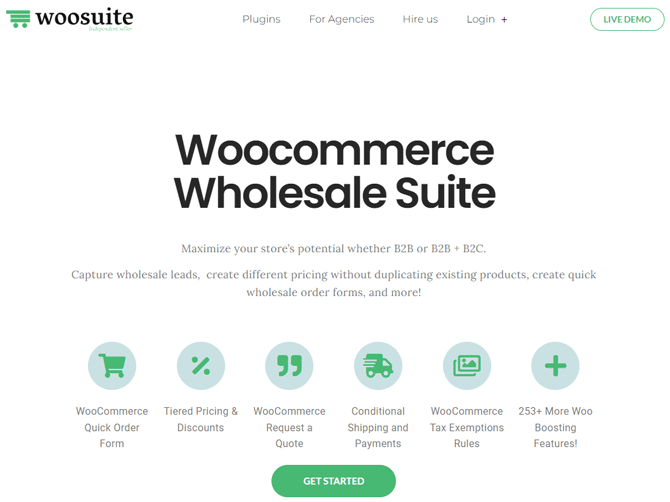 Whether you need a WooCommerce wholesale store for your B2B business or a platform to handle B2B and B2C sales, the WooSuite free WooCommerce wholesale plugin is perfect. With their easy-to-use system, you can transform the way you handle your wholesale marketing from start to finish. You'll be able to handle request quotes, tiered pricing and discounts, conditional shipping, tax exemptions, and over 253+ more woo-boosting features. 
There's so much potential in this dynamic pricing plugin that will allow you to create custom wholesale orders and automate processes at no extra cost. Expand into the most significant online market faster and easier with your existing WooCommerce products. It's time to bring your store's potential to its absolute peak!
Highlighted Features:
Minimum Order
Inventory Management
Tiered Pricing
Stock Management
Shipping Methods Control
Pricing: There are 3 different pricing plans for Pricing Table by Supsystic:
Basic Plan: $189/ Year
Professional Plan: $249/ Year
All Access Plan: $349/ Year
Frequently Asked Questions
What is Suite wholesale?
Wholesale Suite is an extension of WooCommerce that adds wholesale features to your store. Among other things, you can use it to add wholesale prices, new user roles for wholesale, restrictions on which products can be seen, minimum order form requirements, and wholesale shipping and payment methods.
How do I add wholesale to WooCommerce?
Start by going to WooCommerce Products and selecting the Categories tab for the desired product category. From there, you can choose a fixed or percentage discount type based on your preference and enter the requested data for wholesale prices and any minimum purchase restrictions you would like to enforce. Once this has been filled out, just hit update to finalize the product category settings.
Is WooCommerce suitable for beginners?
The ease of use for new users and the abundance of powerful features have made WooCommerce wholesale pro the most widely used eCommerce platform worldwide.
Final Words
With all of the available WooCommerce wholesale free plugins, choosing the best one for your business can be tricky. However, no matter which plugin you choose, it's important to remember that your overall goal is to create value and convenience for wholesale customers. Wholesale pricing needs to be easy to use and supported by fast customer service.
Every free WooCommerce Wholesale plugin comes with its own set of features and functionality, so assess your needs carefully before making a decision – but once you do, you're sure to see real benefits for both you and your customers!