Wholesale distributors play a significant role in the supply chain, connecting manufacturers with retailers and serving as intermediaries for the distribution of goods. In the United States, a vast network of wholesale distributors exists, catering to a wide range of industries and products.
Whether you're a business owner looking to source products or an individual interested in understanding the wholesale landscape, this article will provide a comprehensive guide to wholesale distributors in USA.
We'll explore the benefits of working with wholesalers, key considerations when choosing a distributor, and highlight some of the top wholesale distributors in the country.
Table of Contents
Whols- WooCommerce Wholesale Plugin
Manage your WooCommerce online store with more ease and efficiency with this feature-rich plugin.
Understanding the Role of Wholesale Distributors
Wholesale distributors in the USA serve as a vital link between manufacturers and retailers. These middlemen are essential in making sure that products get delivered to customers on schedule and within budget.
Definition and function of wholesale distributors
Wholesale distributors are crucial for the smooth functioning of various supply chain networks. These companies act as intermediaries between manufacturers and retailers or other customers. Wholesale distributors' main job is to buy goods in large quantities and resell them to retailers at a profit by selling them for less.
This means wholesale suppliers are responsible for dispatching large quantities of goods to retailers, who can then sell them to end customers. Apart from this, wholesale distributors also play a vital role in advertising and promotional activities, thereby enhancing their market value.
By streamlining the supply chain process, wholesale distributors ensure that products reach the end customer cost-effectively and timely.
Importance in the Supply Chain Ecosystem
The supply chain ecosystem plays a crucial role in the success of businesses across industries. Here are some key reasons why the supply chain ecosystem is important:
Efficient Operations: A well-organized supply chain ecosystem ensures smooth and efficient operations. It involves coordinating and managing various activities such as procurement, production, inventory management, transportation, and distribution. By streamlining these processes, companies can minimize delays, reduce costs, and enhance customer satisfaction.
Cost Optimization: The supply chain ecosystem enables businesses to optimize costs by identifying areas of inefficiency and implementing strategies to improve them. This includes reducing inventory carrying costs, minimizing transportation expenses, and optimizing production processes. Such cost-saving measures contribute to higher profitability and competitiveness in the market.
Customer Satisfaction: A strong supply chain ecosystem directly impacts customer satisfaction. Timely delivery of products, accurate order fulfillment, and effective after-sales services are crucial for maintaining customer loyalty. By ensuring a seamless flow of goods from suppliers to end customers, businesses can meet customer expectations and gain a competitive edge.
Collaboration and Innovation: Collaboration within the supply chain ecosystem fosters innovation and drives continuous improvement. Effective communication and collaboration among suppliers, manufacturers, distributors, and retailers facilitate the exchange of ideas, technological advancements, and best practices.
Sustainability and Social Responsibility: Promoting sustainability and social responsibility is greatly aided by the supply chain ecology. By integrating environmentally friendly practices, ethical sourcing, and fair labor conditions into their supply chains, businesses can meet growing consumer demands for sustainable products and contribute to positive social impact.
Recommended Blog For You:
👉 How to Create a Wholesale Store in WooCommerce in Just a Few Easy Steps
👉 Wholesale and Resale: A Comparative Analysis for Business Owners
👉 The Wholesale Industry Unveiled: A Comprehensive Overview
👉 How to Buy Wholesale Directly from Manufacturers: Cut Costs and Boost Profitability
Advantages of working with wholesalers
Working with wholesalers offers businesses several advantages, regardless of size or industry. Here are some key advantages of partnering with wholesalers:
Cost Savings: In order to help businesses take advantage of economies of scale, wholesalers frequently provide choices for bulk purchases. By buying products in larger quantities, businesses can secure lower unit costs, reducing their overall procurement expenses. This cost savings can translate into higher profit margins or competitive customer pricing.
Wide Product Selection: Wholesalers typically stock a wide range of products from different suppliers. This extensive product selection gives businesses access to a diverse range of goods, enabling them to meet the varied demands of their customers.
Simplified Supply Chain: Working with wholesalers simplifies the supply chain for businesses. Businesses can consolidate orders with a single wholesaler instead of dealing directly with multiple manufacturers or suppliers.
Faster Time-to-Market: Wholesalers often have readily available stock ready for immediate shipment. This fast turnaround time lets businesses quickly replenish their inventory, reducing the lead time between order placement and product availability.
Market Insights: Wholesalers often have a deep understanding of market trends, customer preferences, and industry dynamics. Businesses can obtain important insights and stay current on market developments by collaborating closely with wholesalers.
Relationships with Retailers: Wholesalers act as intermediaries between manufacturers and retailers. Partnering with wholesalers can provide businesses with valuable connections to a network of retailers.
Key Considerations When Choosing a Wholesale Distributor
Identifying your product requirements and niche
As a small business owner, selecting the right wholesale distributor can make a significant impact on your success. Therefore, it's crucial to identify your specific product requirements and niche before choosing a distributor. Understand your target audience and what they look for in your product.
You can consider factors such as location, delivery time, and pricing to make sure the distributor can fulfill your needs. After determining what you need, you can select the distributor that best meets your requirements by reducing your alternatives. Recall that choosing wisely can expand your consumer base and help your company flourish.
Evaluating distributor reliability and reputation
When it comes to choosing a wholesale distributor, one of the most important factors to consider is their reliability and reputation. After all, you want to work with a company that you can trust to deliver high-quality products and services consistently. To evaluate a distributor's reliability and reputation, it's important to do your research.
Look for reviews from other businesses in the wholesale industry, and check to see if the distributor has a good track record of meeting deadlines and resolving any issues that arise.
Additionally, consider the distributor's longevity in the industry, as this can indicate their commitment to quality and customer satisfaction. To make sure you select a partner who will support the success of your company, consider a distributor's track record and dependability.
Assessing pricing and terms of cooperation
Another important factor to consider when selecting a wholesale distributor is the pricing and terms of cooperation. Wholesale prices can make or break a business, and choosing a distributor that offers competitive rates that align with your budget is essential. It's also important to consider the terms of cooperation, such as payment schedules and minimum order quantities.
Ideally, you want a distributor that offers flexible payment options and minimum order requirements, allowing you to adjust your inventory levels as needed without breaking the bank. A successful and long-lasting connection with a reputable wholesale distributor can be achieved by carefully weighing the terms of cooperation and price. This will help you as a business owner.
Logistics and distribution capabilities
Logistics and distribution capabilities should be one of the key considerations when selecting a wholesale distributor. A highly experienced distributor should possess a wide range of competencies, such as streamlined inventory management and timely deliveries. With the right set of tools and processes, a wholesale distributor should be able to accommodate any order volume at any time.
Choosing a wholesale distributor with facilities, equipment, and software solutions that can effectively cater to your unique business requirements is always a good idea. With the right logistics and distribution capabilities in place, you can ensure that your products will be delivered on time and reach your customers quickly and efficiently.
Customer support and after-sales service
When searching for a wholesale distributor, it's important to consider what level of customer service they offer. When it comes to resolving any problems that may come up after the sale, a distributor who places a high priority on customer service can make all the difference. Good customer service can ensure smooth communication and prompt solutions for any concerns you may have.
Additionally, after-sales service is another key factor to look for, as it can greatly impact your business in the long run. A distributor willing to stand behind their products and provide reliable support will ultimately help you build a stronger relationship with your customers. Therefore, when choosing a wholesale distributor, make sure to take customer service and after-sales service into account.
Whols- WooCommerce Wholesale Plugin
Manage your WooCommerce online store with more ease and efficiency with this feature-rich plugin.
Top Wholesale Distributors in USA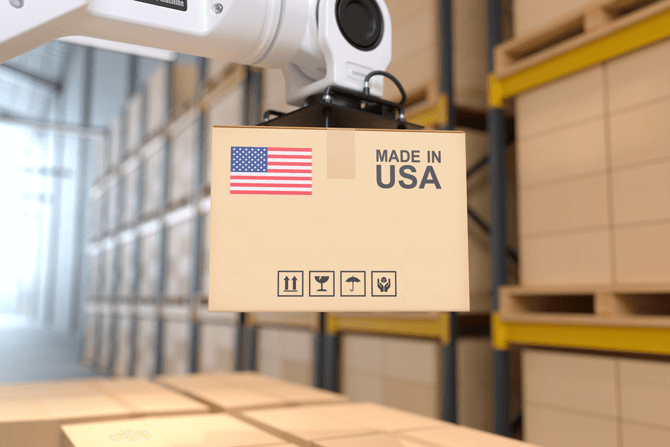 eBay
Regarding wholesale distributors in the USA, eBay is a name that rings a bell. eBay has been a prominent wholesale provider in the nation since its founding in 1995. The platform offers a popular auction marketplace for branded accessories and electronics and boasts great refurbished products at an affordable range.
With its advanced search menu, you can quickly search for items in different categories by keyword, suppliers in specific regions, or categories. eBay also offers an easy-to-use draft generation feature that lets you prefill data, making the entire process a breeze. Remember to check if your product is listed in the bulk category to get the best-discounted prices.
Key Features
Up to 20% discount on bulk purchases
Low shipping rates
Advanced product search options
Shipping guide for each listed item
👉 Check How to Find Buyers for Wholesaling: The Essential Guide
Worldwide Brands
If you are an online business owner searching for high-quality wholesale distributors in the USA, you might want to check out Worldwide Brands. As one of the oldest and best wholesale websites on the internet, they have built their reputation around offering a large directory of reliable suppliers and dropshippers.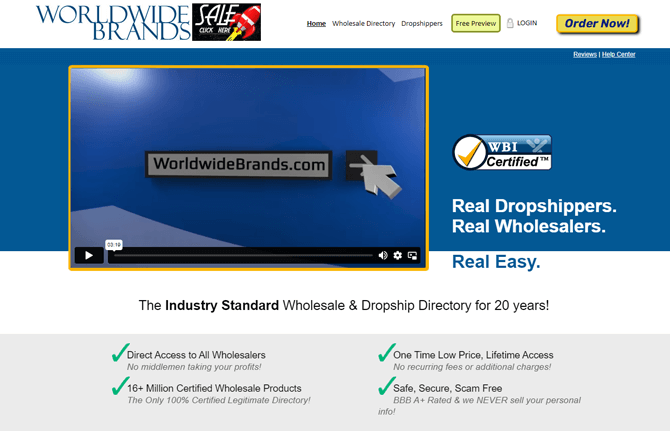 With over 16 million products to choose from and over 8000 suppliers listed, Worldwide Brands offers an extensive range of inventory and product categories to help you grow your business.
Providing quality assurance, Worldwide Brands conducts inspections on wholesalers' warehouses to ensure that they are legitimate and trustworthy. So, if you're looking for a reliable source of wholesale products or dropshipping suppliers, look no further than Worldwide Brands.
Key Features
Verified wholesalers from the official source
Directory available to all types of sellers
New wholesalers are added every week to the directory
More than 16 million approved wholesale products
👉 Check How Much Should You Charge for Shipping? – The Best Practices for eCommerce Stores
Syncee
Finding high-quality wholesale distributors can be time-consuming and challenging for retailers in the United States. That's where Syncee comes in. As a B2B platform, Syncee offers access to a vast database of over 2000 suppliers, providing retailers with many options to source products for their stores.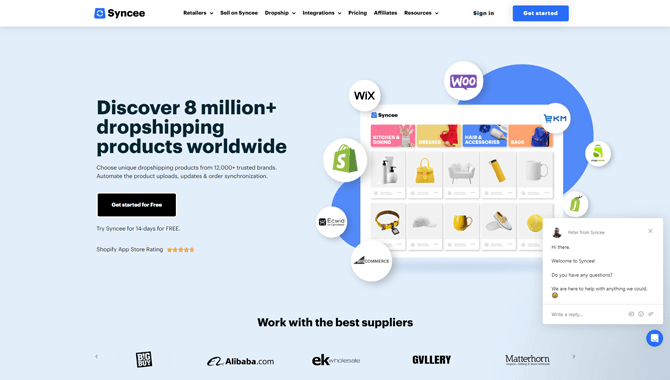 With over 1.6 million products available, retailers can easily find the products they need and negotiate competitive prices directly with the suppliers. What sets Syncee apart is its user-friendly platform and comprehensive features, including automated product uploads, inventory management, and order management. Even better, retailers can take advantage of these benefits without coding skills, making it accessible to businesses of all sizes.
By using Syncee, retailers can streamline their operations, allowing them to focus on the core of their businesses and drive growth.
Key Features
Access a selection of over 2000 vendors and distributors
Streamline data exchange with suppliers and sales platforms through automation.
Improve data organization by implementing useful custom fields
Augment product information with supplementary details and images
Pricing:
Monthly:
Starter: $0
Basic: $29
Pro: $49
Business: $99
Annually:
Pro: $24
Business: $57
Basic: $79
👉 Check Effective Marketing Strategies for Wholesale Distributors: Amplify Your Reach
DollarDays
If you're in the market for wholesale distributors in the USA, DollarDays is the company that deserves your attention. With over 10,000 products on its shelves, this online wholesaler has become a favorite destination for organizations, including nonprofits, schools, businesses, and charities. Whether you're looking for dollar items or general merchandise, DollarDays has you covered.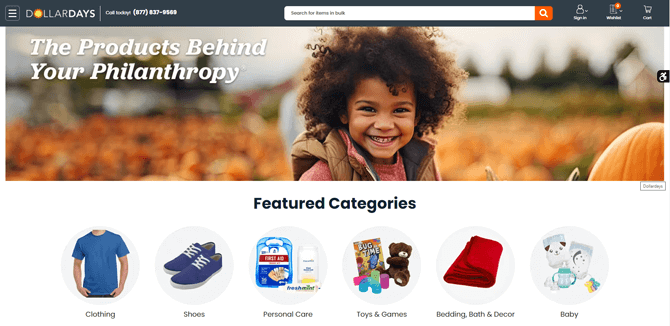 Another vital aspect of DollarDays is its dedication to efficient shipping. To help keep costs low for customers, DollarDays divides its products into various departments across the US, making it easy for buyers to find products near their region. That means you can save on shipping costs and have your product arrive quickly.
For all these reasons and more, it's clear that DollarDays is one of the largest and most reliable wholesale distributors in the USA.
Key Features
Trusted and reliable suppliers
No order minimums
14-day return policy
👉 Check Best WooCommerce B2B Plugins – Boost Your Own Business
Bwanaz
For small businesses looking for the best wholesale distributors in the USA, Bwanaz is a name that should definitely be on their radar. Not only is this California-based company partnered with big names like Microsoft, Walmart, and Bloomingdale's, but it also works with top US manufacturers to provide businesses with access to a large selection of high-quality products.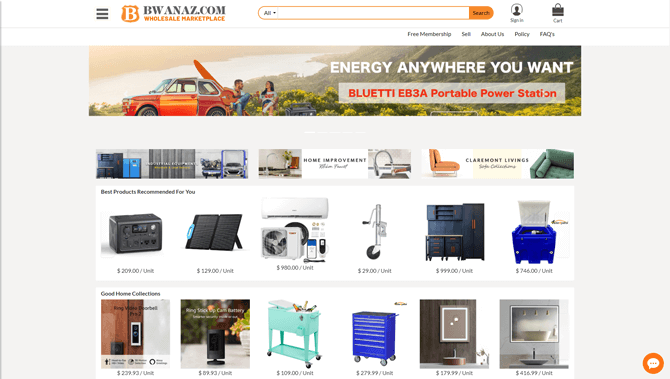 What makes Bwanaz stand out from the crowd is its numerous benefits to its customers, including free shipping, free marketing, and the ability to order sample products before making a large purchase.
The company also offers a free trial to its paid membership, giving users access to various deals and discounts on wholesale products. The product recommendations section for dropshipping sellers is an invaluable resource for finding high-profit-margin products.
With all these benefits and more, it's easy to see why Bwanaz is considered one of the best wholesale websites for small businesses.
Key Features
Free local order shipping
Sellers can advertise products for free on major social platforms.
Wide range of regional and premium products
A flexible return policy
Whols- WooCommerce Wholesale Plugin
Manage your WooCommerce online store with more ease and efficiency with this feature-rich plugin.
Tips for Successful Collaboration with Wholesale Distributors
Maintaining clear communication channels
Collaboration with wholesale distributors is key for small businesses looking to succeed in today's competitive marketplace. A successful partnership requires open communication channels that enable both parties to work towards their long-term goals. Ensuring that these channels are clear of any roadblocks or obstacles is vital.
Small businesses should establish regular communication with their distributors to keep everyone up-to-date on product changes, pricing, or delivery schedules. Additionally, using technology, such as online portals, can streamline communication and facilitate information sharing.
Small businesses can develop successful collaborations with their wholesale distributors by emphasizing the importance of clear communication channels.
Building strong relationships based on trust
Small businesses often work with wholesale distributors to save money and improve operations. Building strong relationships with these distributors is essential for success. Trust is a key factor in this collaboration.
Open and honest communication with your distributors is one way to establish trust. Be honest about your needs and limitations, and find common goals that benefit both of you. It's also important to show your appreciation for their work.
Praise them when they do a good job, and don't be afraid to offer feedback when things don't go as planned. By following these tips, you can foster strong relationships with your wholesale distributors to benefit your small business for years.
Monitoring performance and addressing issues promptly
Collaborating with wholesale distributors can provide your business with a worldwide range of opportunities. However, to make the most of these partnerships, monitoring their performance regularly and promptly addressing any issues is essential. By doing so, you can identify any potential obstacles before they become challenges and improve the quality of your relationship with your distributor.
Maintaining open communication channels is also vital to ensure both parties know their expectations and responsibilities. Ultimately, cultivating a successful collaboration with wholesale distributors is essential to achieving your business goals, and monitoring and addressing issues promptly is a significant part of that process.
Continuously evaluating and optimizing partnerships
As a business owner, collaborating with global wholesale distributors can be a game-changer for your brand. Factors such as access to new markets and customers, increased production, and more significant sales are some of the benefits you can gain from collaborating with wholesale distributors.
However, to enjoy these perks, continuously evaluating and optimizing your partnerships with wholesale distributors is crucial. Consistent evaluation will help you identify areas that require improvement and adjust strategies to achieve better results.
Moreover, optimizing your partnerships with wholesalers will enable you to leverage your strengths and create a mutually beneficial relationship to help your business thrive in a competitive market.
Conclusion
Wholesale distributors play a vital role in distributing goods across various industries in the USA. Understanding how to navigate the wholesale landscape, evaluate distributors, and establish successful collaborations is crucial for businesses and individuals seeking reliable suppliers.
Following the comprehensive guide outlined in this article will give you the knowledge and insights needed to source products efficiently and forge valuable relationships with wholesale distributors in the USA. So, let's dive in and explore the world of wholesale distribution.