In today's competitive business landscape, having a strong online presence is crucial for B2B companies. WooCommerce, the popular eCommerce platform, offers a range of plugins specifically designed to enhance B2B functionality and improve the overall user experience. In this article, we will explore the best WooCommerce B2B plugins that can take your business to new heights.
Whols- WooCommerce Wholesale Plugin
Manage your WooCommerce online store with more ease and efficiency with this feature-rich plugin.
Importance of B2B plugins in maximizing sales and streamlining B2B operations
B2B plugins play a crucial role in maximizing sales and streamlining B2B operations. These plugins are designed to enhance the functionality and efficiency of B2B eCommerce workflows. Here are some key reasons why B2B plugins are important:
Streamlining Back-Office Operations: B2B plugins integrate with ERP (Enterprise Resource Planning) systems, allowing for seamless data synchronization between different departments. This streamlines back-office operations improves data accuracy, and eliminates manual data entry.
Improved Customer Experience: B2B plugins enhance customer experiences by providing features such as self-service portals, personalized pricing, and quick order placement. These features make it easier for B2B customers to navigate the buying process and access relevant information.
Increased Efficiency in Order Management: B2B plugins automate various aspects of order management, including order processing, inventory management, and fulfillment. This automation saves time, reduces errors, and enables faster order processing, leading to improved operational efficiency.
Enhanced Sales Engagement: B2B plugins offer features like CRM (Customer Relationship Management) integrations, customer segmentation, and targeted marketing campaigns. These tools help B2B businesses engage with their customers more effectively, resulting in increased sales and customer loyalty.
Faster Invoicing and Payment Processing: B2B plugins streamline the invoicing and payment processes, enabling faster invoice generation, accurate tracking of payments, and automated payment reminders. This results in improved cash flow and reduces payment delays.
By leveraging the power of B2B plugins, businesses can optimize their sales processes, improve operational efficiency, and deliver exceptional customer experiences. The integration of these plugins into B2B eCommerce platforms is crucial for businesses looking to gain a competitive edge in the market.
Choosing the Right WooCommerce B2B Plugins for Your Business
Running a successful wooCommerce store requires more than just listing products and expecting customers to buy. B2B transactions, in particular, require a well-planned approach. That's why choosing the right WooCommerce B2B plugins for your business is crucial.
Assessing your specific B2B needs and requirements
Business-to-business (B2B) transactions require careful consideration, especially when it comes to choosing the right WooCommerce wholesale plugins for your business. With many options available on the market, it is crucial to evaluate your specific needs and requirements to guarantee finding the appropriate solution. Before choosing your plugin, consider what features you need, such as tiered pricing or bulk order discounts.
You'll also want to think about the level of customization you require, including whether you need to integrate with third-party software or systems. By taking the time to research your options and assess your needs, you can choose the right WooCommerce B2B plugins for your business.
Considering scalability and compatibility with your existing systems
When it comes to choosing the right WooCommerce B2B plugins for your business, it's essential to consider more than just the features and functionality. Scalability and compatibility with your existing systems are crucial factors that can make or break your success.
As a WooCommerce expert, I have seen first hand the importance of finding the right balance between these aspects to create a cohesive and efficient solution for your business. By carefully evaluating your needs and working with the right vendors, you can customize the perfect suite of plugins to keep your business running smoothly and effectively.
Reading reviews and seeking recommendations from industry experts
When it comes to choosing the right WooCommerce B2B plugins for your business, getting advice from experts is a smart move. Reading reviews and recommendations from those who have experience in the field can be an invaluable resource, helping to guide you toward the most effective plugins for your specific needs.
Whether you're just starting out or seeking to upgrade your existing setup, the advice of a WooCommerce expert can help you make the most of your eCommerce platform. With the right plugins in place, you can build a robust and effective online store that meets the needs of your B2B customers.
Recommended WooCommerce B2B Plugins for Enhanced Functionality
Whols
Looking for a WooCommerce B2B Plugin that allows you to set up wholesale prices for your eCommerce store easily? Then, you may want to check out Whols, a user-friendly plugin that makes it super easy for store owners to offer special wholesale pricing to their targeted wholesalers. With Whols, you can streamline your wholesale operations and efficiently cater to your business customers' needs.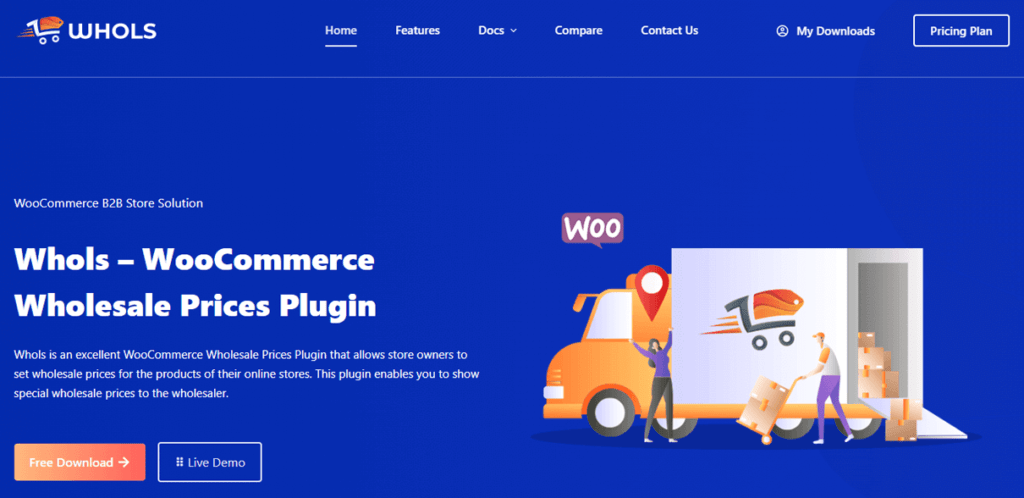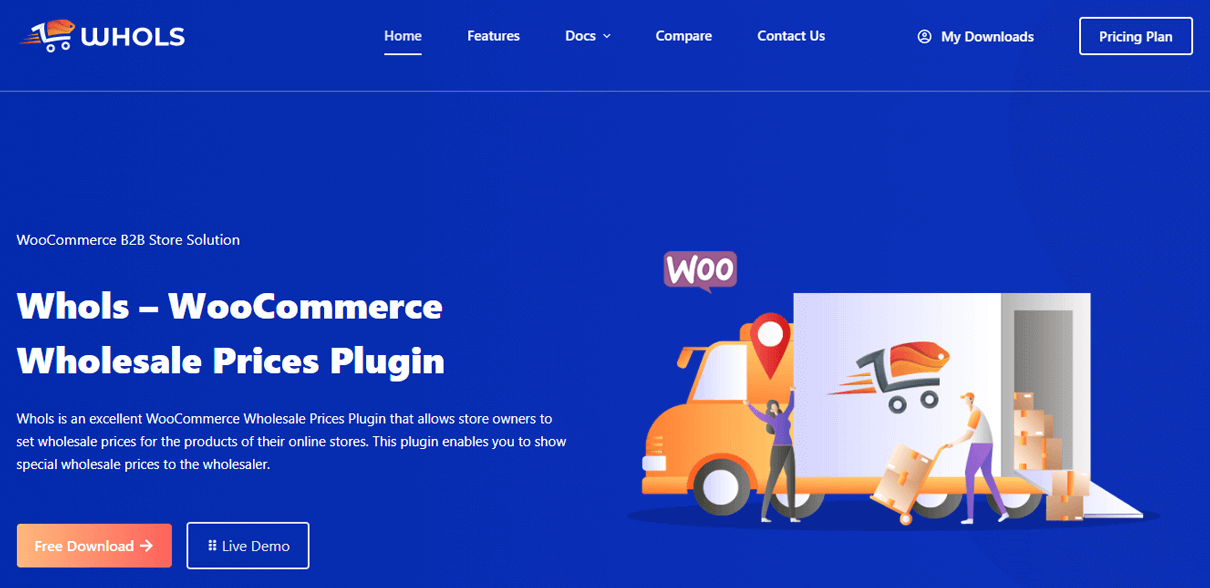 With this plugin, you can attract a variety of clients while still being able to maintain your store's quality and efficiency. Another helpful feature of Whols is the Registration Fields Manager, which allows you to customize your registration form fields to meet your specific needs.
And, with the ability to set a specific redirect page after the registration process is complete, your users will have an even smoother experience overall. So, why not give Whols a try and see what a breeze pricing management can be?

Highlighted Features
Wholesaler Registration
Registration Fields Manager
Wholesaler Request Management
Category Wise Product Price Set
Pricing Plan:
Yearly-
1 website: $79
5 websites: $149
Unlimited websites: $249
Lifetime-
1 website: $199
5 websites: $299
Unlimited websites: $499
WooCommerce B2B Marketplace
WooCommerce B2B Plugins have become a popular choice among store merchants looking to create a seamless B2B marketplace. The WooCommerce B2B Marketplace plugin is an excellent example of how businesses can leverage such plugins to connect with their suppliers and customers. This plugin offers several features, like buying leads and requesting quotations, which make it easier for businesses to streamline their procurement process.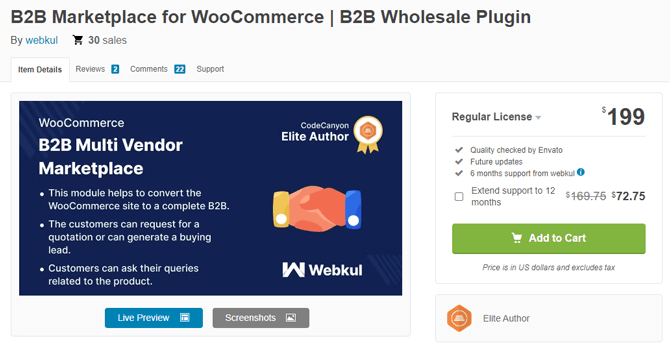 Additionally, quick orders and supplier reviews add more convenience to the user experience. These features and much more make WooCommerce B2B Plugins an indispensable tool for any business looking to build a viable B2B marketplace.
Highlighted Features
Supplier Commission Availability
Product Type Restriction
Supplier Category Restriction
Shop Inquiry Option
Pricing Plan
Regular License- $199
Extended License- $825
👉 Read How to Make Packaging for Wholesale Products? : A Complete Guide
B2BKing
For businesses looking to run a successful Wholesale, B2B, hybrid B2B+B2C, or Private Membership store, the WooCommerce B2B Plugins space can be a confusing and overwhelming place. However, with B2BKing, you can rest assured that all your B2B needs can be taken care of. From basic features such as hiding prices for guest users to more complex ones such as tax exemptions, VAT handling, and multiple buyers on account, B2BKing has got you covered.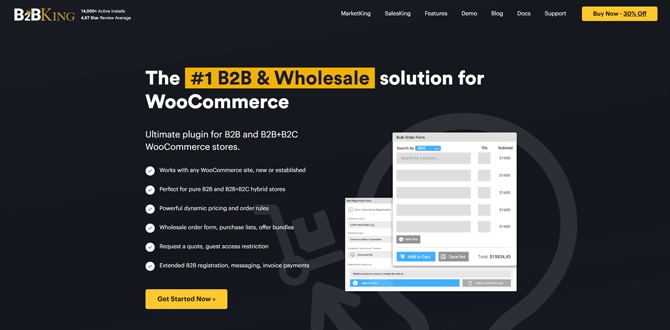 With an astounding 137+ features included in their plugin, it's clear that they offer incredible value for your business. Despite its many features, B2BKing remains a simple-to-use solution that doesn't compromise on quality. Thanks to its rich feature set, B2BKing can easily provide your business with all the common wholesale features that other plugins offer and then some. Rest assured that with B2BKing, you'll have everything you need to take your B2B business to the next level.
Highlighted Features
Control product visibility.
Offer B2B/B2C registration.
Quote requests that can be converted to orders.
Wholesale order form with 3 theme options.
Pricing Plan
Regular License- $599
Extended License- $1899
👉Check Top B2B King Alternatives: Boosting Your Business with the Best Options
Wholesale Suite
If you're looking to bring your wholesale business to the next level, Wholesale Suite is your one-stop solution. With over 25,000+ satisfied users, Wholesale Suite is the go-to option for those looking for WooCommerce B2B plugins.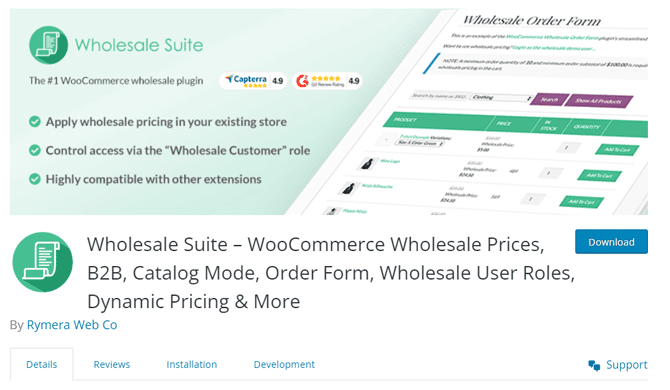 This wholesale suite is designed to help you grow your wholesale business with confidence without the high costs often associated with such solutions. You can use it for a single site or for unlimited sites. The choice is yours! Plus, with a 14-day refund guarantee, you can rest easy knowing you won't be stuck with something that doesn't work for you.
The Wholesale Suite is also developer-friendly, built with code comments and hooks that make customization and integration easier for those who work with WordPress standards. And with automatic updates, you can update your plugins automatically via the WordPress dashboard.
Highlighted Features
WooCommerce Wholesale Prices
Wholesale Product Visibility
Wholesale Tax Control
Min Purchase Rules
Pricing Plan
Growth Bundle- $118/year
Business Bundle- $238/year
👉 Get 5 Wholesale Suite Alternatives You Can Use to Grow Your Business
WooCommerce B2B
When it comes to building a successful hybrid B2B or B2B/B2C store, there's no denying that WooCommerce B2B Plugin is a game-changer. This single, comprehensive plugin offers advanced features that cater to a wide range of diverse store needs.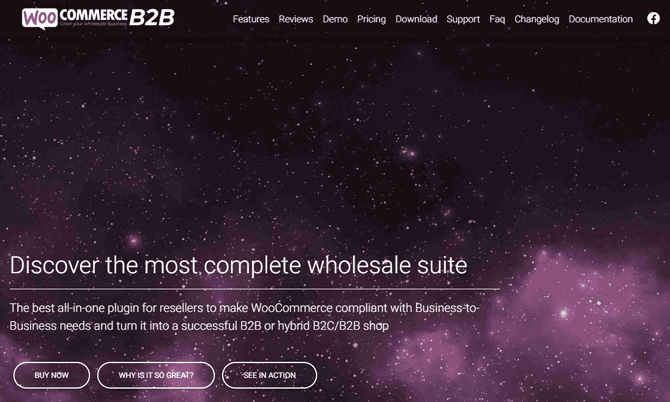 From managing diversified price lists, discounts for quantities, and minimum purchase quantities to handling quotes, separate registration forms, payment and shipping methods, and even advanced tax management, WooCommerce B2B is the all-in-one solution to get the job done.
With this plugin, you can easily build and manage a complete and advanced B2B/B2C store that thrives in today's competitive market.
Highlighted Features
Wholesale prices and prices by quantity
Hide product prices from certain user roles
Different registration forms with approval
Shipping and payment management
Coupon usage restriction
Pricing Plan
Regular License- $99
Extended License- $199
👉 Learn How to Find Buyers for Wholesaling: The Essential Guide
B2B for WooCommerce
If you're running a business that caters to both B2B and B2C customers, it can be challenging to manage both groups' needs and expectations. That's where WooCommerce B2B plugins come in. With the right plugin, you can optimize your store for both types of customers without needing to set up a separate store.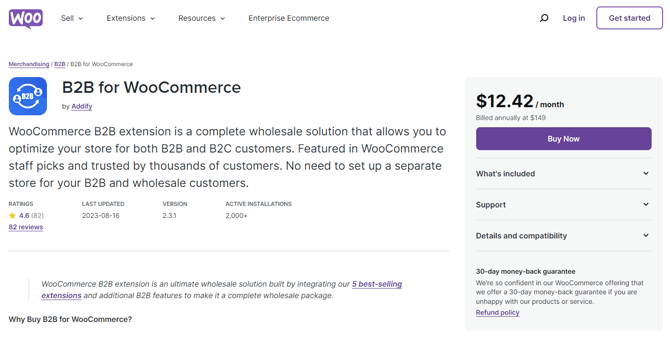 One standout option is the WooCommerce B2B extension, which has been featured in WooCommerce staff picks and is trusted by thousands of customers. This powerful plugin is a complete wholesale solution, allowing you to customize your store specifically for B2B customers.
Whether you're looking to offer volume discounts, segmented pricing, or other B2B-specific features, a plugin like this can help you streamline your operations and grow your business.
Highlighted Features
Review and approve B2B registrations,
Enable default fields,
Hide prices and add to cart button,
Products and categories can be hidden depending on the user's role.
Add a mini-quote dropdown with customizable form fields.
Pricing Plan: $12.42/month
Whols- WooCommerce Wholesale Plugin
Manage your WooCommerce online store with more ease and efficiency with this feature-rich plugin.
Frequently Asked Questions
Can WooCommerce B2B plugins help with customer retention? 
Absolutely! WooCommerce B2B plugins offer features like personalized pricing, loyalty programs, and targeted marketing campaigns, which help businesses make a more engaging and personalized experience for their B2B customers. By providing value-added services and incentives, these plugins contribute to customer retention and loyalty.
Are WooCommerce B2B plugins scalable for growing businesses? 
Yes, WooCommerce B2B plugins are designed to accommodate the needs of growing businesses. They offer scalability options such as handling large product catalogs, managing multiple pricing levels, and supporting high transaction volumes. This ensures that the plugins can grow alongside your business without compromising performance.
Can I customize the appearance and functionality of WooCommerce B2B plugins? 
WooCommerce B2B plugins offer customization options for appearance and functionality to fit specific business needs. From adjusting colors and layouts to adding or removing features, these plugins provide flexibility for customization.
Key Takeaways
As we wrap up our discussion on Boosting your Business with the Best WooCommerce B2B Plugins, it is important to remember just how crucial these add-ons can be for your online store. From streamlining the checkout process to simplifying vendor management and providing more customization options, the best WooCommerce B2B Plugins can make all the difference.
Whether you're a seasoned pro or just entering the world of B2B sales, incorporating these plugins into your site can help ensure that your business is running at its peak efficiency and that your customers enjoy a seamless experience every time. So don't hesitate to explore the top WooCommerce B2B Plugins available today and see how easy it can be to take your business to the next level.