When it comes to scaling your wholesale business, having the right tools and solutions in place is essential. While Wholesale Suite offers robust features, it's always wise to explore alternatives that align with your specific needs. In this article, we'll delve into 5 powerful Wholesale Suite Alternatives that can help you effectively expand and elevate your wholesale operations.
Overview of Wholesale Suite
For businesses looking to optimize their wholesale operations, the WholesaleSuite plugin is an indispensable tool. One of the key benefits of using this plugin is the ability to set bulk wholesale prices for customers, allowing businesses to offer special deals and discounts to their wholesale customers. This not only incentivizes them to buy in larger quantities but also helps businesses increase their revenue and build strong relationships with their customers.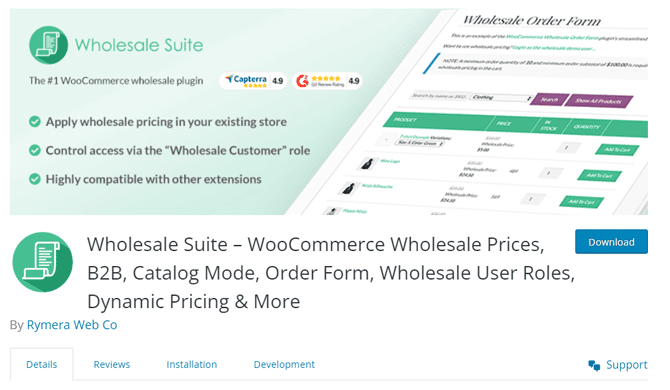 Additionally, the WholesaleSuite plugin provides an easy and efficient way to manage customer accounts, create customer groups, and track wholesale orders. With features like automated emails and an integrated inventory system, businesses can save time and reduce errors in their wholesale operations.
Overall, the WholesaleSuite plugin is a powerful solution for businesses looking to streamline their wholesale operations and grow their business.
Highlighted Features
WooCommerce Wholesale Prices
Wholesale Product Visibility
Wholesale Tax Control
Min Purchase Rules
Pricing
Growth Bundle- $118/year
Business Bundle- $238/year
Factors to Consider When Choosing Wholesale Suite Alternatives
When considering Wholesale Suite Alternatives, there are several factors to keep in mind. Here are some key considerations:
Features: Evaluate the features offered by each alternative and compare them to Wholesale Suite. Look for features that align with your specific needs and requirements.
Pricing: Compare with the prices of different options, including the initial cost and any regular subscription fees. Make sure to choose something that fits your budget.
Integration: Check if the alternative integrates smoothly with your existing systems and platforms. This includes compatibility with your eCommerce platform, payment gateways, and other software you use.
User experience: Look for alternatives that offer a user-friendly interface and intuitive workflows. The ease of use can significantly impact your team's productivity.
Customer support: You should consider the level of customer support provided by each option. Look for options that offer comprehensive support and timely assistance when needed.
Reviews and reputation: Read reviews and testimonials from other users to get an idea of their experiences. This can provide insights into the strengths and weaknesses of each alternative.
It's important to thoroughly research and evaluate different Wholesale Suite Alternatives based on these factors. This will help you make an informed decision that best suits your business needs.
5 Wholesale Suite Alternatives
Whols
If you're looking for a WooCommerce Wholesale Prices Plugin to set up wholesale prices for your eCommerce store, Whols is an excellent choice to consider. Whols makes it easy for store owners to offer special wholesale pricing options to their targeted wholesalers. While there are various alternatives for Wholesale Suite, Whols provides you with a simpler, more straightforward solution to manage your wholesale pricing.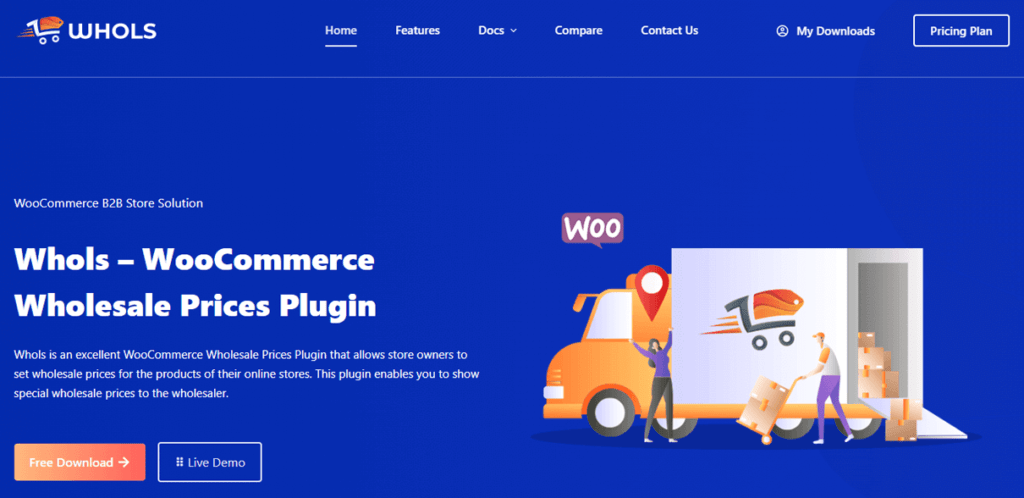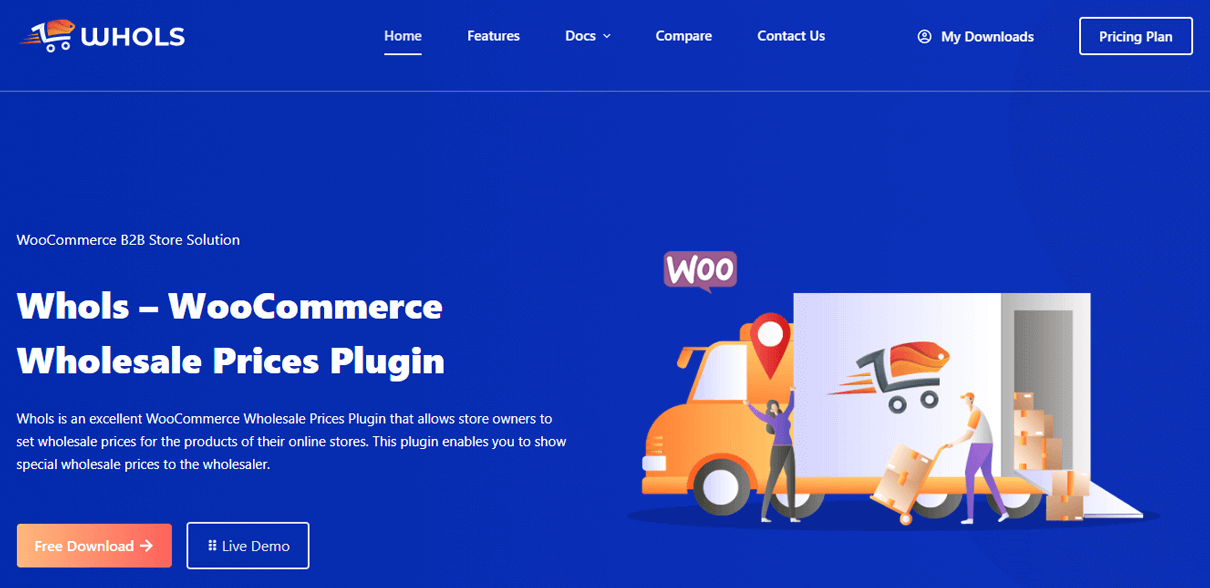 This plugin allows you to set different prices for different wholesale roles, making it easier to attract a variety of clients. Another helpful feature of this plugin is the Registration Fields Manager, which allows you to customize your registration form fields as needed. Additionally, you can set a specific page for redirected users after they complete the registration process.
With Whols, you can set up wholesale prices for your products in just a few clicks and save time while still maintaining the quality of your online store. Give Whols a try to enjoy its seamless and effective pricing management system.
Highlighted Features
Wholesaler Registration
Registration Fields Manager
Wholesaler Request Management
Category Wise Product Price Set
Pricing
Yearly-
1 website: $79
5 websites: $149
Unlimited websites: $249
Lifetime-
1 website: $199
5 websites: $299
Unlimited websites: $499
WooCommerce B2B
The WooCommerce B2B plugin is a highly effective solution for businesses that want to streamline their sales process and improve their eCommerce operations. Its wide range of features allows businesses to create and manage products, customize pricing, and easily manage orders and invoices. The plugin's capabilities extend even further, thanks to features like customizable order forms, support for multiple currencies and languages, and even integration with social media accounts.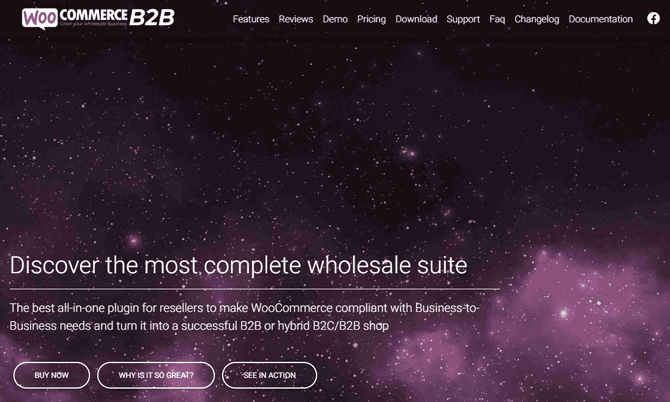 The plugin is incredibly powerful and packed with features that allow you to create product listings, set custom pricing, and manage all aspects of your business orders and invoicing. A great advantage of WooCommerce B2B is that it integrates seamlessly with many third-party applications, such as payment gateways, existing accounts, and social media. This makes it easier for businesses to streamline their operations and save time, further increasing their productivity.
Additionally, if you're looking to take things up a notch, consider the WooCommerce Wholesale Suite, which builds on the WooCommerce B2B plugin and provides many additional features for wholesale businesses.
Highlighted Features
B2B dedicated prices
Hidden prices and stocks
Product categories visibility
Prices by quantity
Pricing
👉 Learn What is a Limited Quantity Item?: Everything You Need To Know
Barn2 WooCommerce Wholesale Pro
Barn2 WooCommerce Wholesale Pro is the perfect plugin for eCommerce stores looking to create a professional wholesale experience for their customers. With this plugin, store owners can easily set up custom user roles and assign access levels for their wholesale customers, ensuring a secure and private shopping experience. But what really sets Barn2 WooCommerce Wholesale Pro apart is its ability to manage product pricing for different user roles.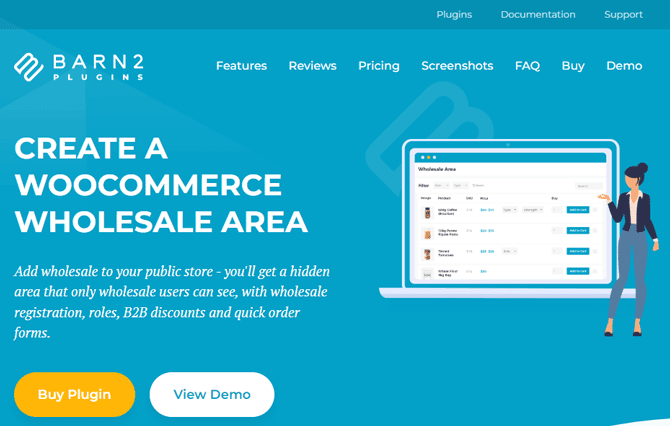 Store owners can offer bulk wholesale prices and exclusive discounts to their wholesale customers, making it easy to manage pricing and increase sales. Whether you're just starting out or looking to expand your wholesale offerings, Barn2 WooCommerce Wholesale Pro is the perfect solution for any online store.
Highlighted Features
Unlimited Wholesale Roles
Wholesale Registration
Wholesale Visibility
Wholesale Order Forms
Pricing
Two bundle plugins- $149
One plugin- $99
👉 Read Maximizing Profits With Wholesale Branding: A Comprehensive Guide
IgniteWoo WooCommerce Wholesale Suite Pro
IgniteWoo WooCommerce Wholesale Suite Pro is a game-changing plugin for any WooCommerce store owner looking to create, manage, and customize a wholesale program for their store. With the ability to create multiple wholesale roles and set different pricing levels for each role, store owners can offer bulk wholesale prices to their customers.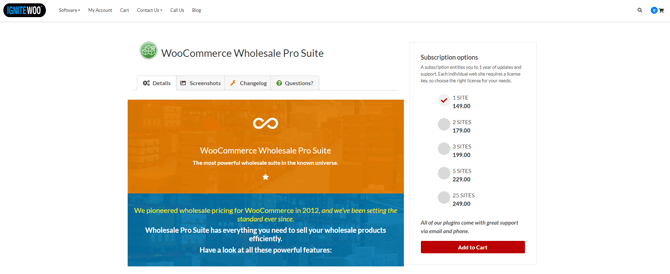 Additionally, this plugin also offers wholesale-specific discounts and promotions, making it an excellent tool for those looking to retain their wholesale customers. The plugin also enables store owners to manage wholesale orders easily, set minimum order requirements, and manage payment gateways.
Its drag-and-drop user interface makes the customization of the wholesale program easy and hassle-free to fit any brand's look and feel. Overall, the IgniteWoo WooCommerce Wholesale Suite Pro is a must-have for any store looking to have a successful wholesale program.
Highlighted Features
Multi-Tier Role-Based Pricing
Quantity Discounts and Cart Discounts
Product & Price Visibility Control
Display Prices With or Without Tax
Pricing
1 site- $149/year
2 sites- $179/year
3 sites- $199/year
5 sites- $229/year
25 sites- $249/year
👉 Check Level Up Your Wholesale Marketing With These 10 Proven Strategies
WholesaleX by WPXPO
WholesaleX by WPXPO is an all-in-one solution that is designed to make running a wholesale business a breeze. As a powerful WordPress plugin, WholesaleX enables businesses to create a dedicated platform for their wholesale customers, allowing for the easy management of products and orders. One of the standout features of WholesaleX is the Bulk Order Form, which simplifies the ordering process for both the customer and the seller.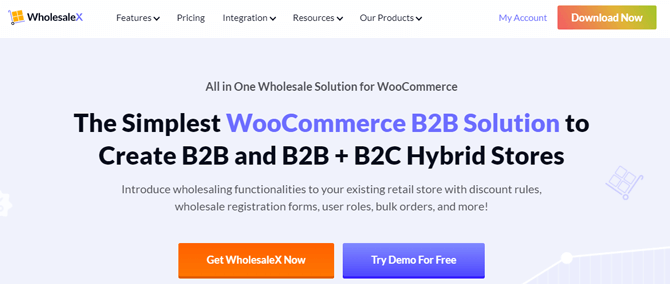 With WholesaleX, businesses have access to a wealth of features, including dynamic rules, user roles, a form builder, WholesaleX Wallet, and conversation tools. Together, these features enable businesses of all sizes to streamline their wholesale operations and take their business to the next level. Whether you're just starting out, looking to expand your existing business, or simply seeking to simplify your wholesale processes, WholesaleX is an excellent choice.
Highlighted Features
Dynamic Rules
User Roles
Form Builder
WholesaleX Wallet
Pricing
Yearly
Free- $0
Starter- $103
Business- $149
Agency- $209
Lifetime
Free- $0
Starter- $199
Business- $279
Agency- $419
Whols- WooCommerce Wholesale Plugin
Manage your WooCommerce online store with more ease and efficiency with this feature-rich plugin.
Frequently Asked Questions
Can I use any of these Wholesale Suite alternatives for both B2B and B2C sales?
Yes, many of these Wholesale Suite alternatives support both B2B and B2C sales. They offer features like tiered pricing, customer segmentation, and flexible order fulfillment options to cater to both types of customers.
Can I manage both wholesale and retail operations with these Wholesale Suite alternatives? 
Yes, some Wholesale Suite alternatives, like Shopify Wholesale and WooCommerce Wholesale Suite, allow you to manage both wholesale and retail operations within a single platform. This provides convenience and streamlines your overall business management processes.
Do these Wholesale Suite alternatives offer customer support and training resources?
Yes, most Wholesale Suite alternatives provide customer support and training resources to assist users. They offer documentation, tutorials, and responsive customer support channels to help you navigate their platforms effectively.
Conclusion
As a business owner, you're always looking for ways to save time and money while expanding your reach in the marketplace. The Wholesale Suite plugin is a valuable tool for many online retailers, but it may not be a perfect fit for everyone. Luckily, there are plenty of Wholesale Suite Alternatives available to help you grow your business.
These alternatives can be a cost-effective solution that offers many of the same features and benefits of Wholesale Suite without the added expense or unnecessary complexity. By exploring and trying these alternatives out for yourself, you'll have a clearer understanding of which one best suits your business needs and helps you achieve your long-term goals.