If you're looking for a Woocommerce plugin to help you create a successful hybrid B2B and B2C store, you may have heard of B2BKing. It's a great option, without a doubt. However, you might be interested to know that there are some equally impressive alternatives to B2BKing that you can use to enhance your WooCommerce functions.
In this article, I'm going to share some of the best B2B King alternatives that you can use to build an effective WooCommerce wholesale store. So whether you're looking for more customization options, better pricing, or a simpler user experience, there's something on this list for you. Let's dive in!
Overview of B2B King
B2B King is the ultimate solution for businesses looking to create a Wholesale, B2B, hybrid B2B+B2C, or Private Membership store with ease. This powerful wooCommerce wholesale plugin thrives on efficiency, offering an all-encompassing solution for all B2B-related activities.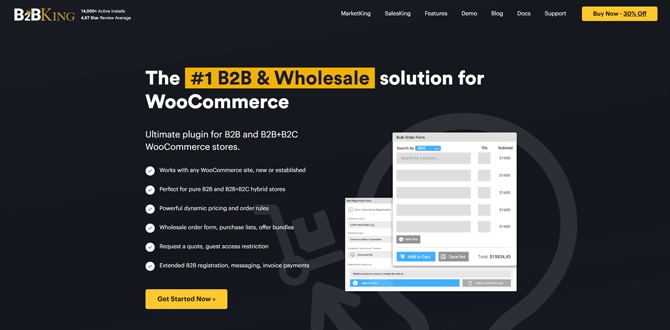 B2B King understands all the intricacies of running a successful B2B enterprise, ranging from basic features such as hiding prices for guest users to more complex aspects such as tiered pricing structures, VAT handling, and tax exemptions.
What's more? B2B King boasts custom billing fields, an invoice payment gateway, and even negotiated price offers! So, whether you're a startup or a large corporation, B2B King gives you everything you need to stay ahead in the B2B game.
Factors to Consider When Choosing B2B King Alternatives
In today's digital age, choosing the right B2B solution is more critical to businesses than ever before. Among the popular options, B2B King is well-known for its excellent features and exceptional functionality. However, there may be instances where the woocommerce wholesale plugin may not meet all the business's requirements. In such cases, it becomes necessary to consider B2B King alternatives.
When choosing B2B King alternatives, there are several important factors to consider. These factors will help ensure that the alternative solution aligns with your business needs and goals. Here are some key factors to consider:
Functionality: Assess the functionalities offered by the alternative solution. Does it meet your specific business requirements? Consider features such as catalog management, order processing, pricing and discount options, customer management, and integration capabilities.
Scalability: Consider whether the alternative solution can accommodate your business growth. Will it be able to handle an increasing number of customers, orders, and transactions? Look for solutions that are scalable and can adapt to your evolving business needs.
Customization: Evaluate the level of customization offered by the alternative. Can you tailor the solution to match your brand identity and unique business processes? Customization options are flexible and allow you to meet your specific business requirements.
User Experience: Consider the user-friendliness and ease of use of the alternative solution. A user-friendly interface and intuitive navigation are crutial for smooth adoption and efficient usage by your team members.
Integration Capabilities: Determine whether the alternative solution can seamlessly integrate with your existing systems and software, such as CRM, ERP, or other business tools. Integration capabilities ensure data consistency and streamline your operations.
Pricing Model: Evaluate the pricing structure of the alternative solution. Does it align with your budget and long-term cost projections? Consider factors such as upfront costs, licensing fees, recurring charges, and any additional costs for customization or support.
Support and Maintenance: Assess the level of support and maintenance provided by the alternative solution provider. Consider factors such as availability of technical support, response time, and ongoing updates and upgrades to ensure smooth operation and timely issue resolution.
Security: Verify the security measures implemented by the alternative solution. Protection of sensitive customer and business data is crucial. Ensure that the solution adheres to industry-standard security protocols and offers robust data encryption and access control features.
Industry Reputation: Research the reputation and track record of the alternative solution provider. Look for customer reviews, testimonials, and case studies to gain insights into the experiences of other businesses using the solution.
Future Roadmap: Consider the future development plans and roadmap of the alternative solution provider. Are they actively investing in innovation and regularly releasing updates? A forward-thinking solution provider will ensure that your chosen alternative remains relevant and competitive in the long run.
By thoughtfully taking into account these factors, you can arrive at a well-informed decision, when choosing the right B2B King alternative for your business.
Top B2B King Alternatives
Whols
If you're looking for an alternative to B2B King, you might want to consider Whols. This impressive plugin allows you to set wholesale prices for your products easily and efficiently, without sacrificing the quality of your online store. One of the most useful features of Whols is its ability to set different prices for different wholesale roles, making it easy to engage with a diverse range of clients.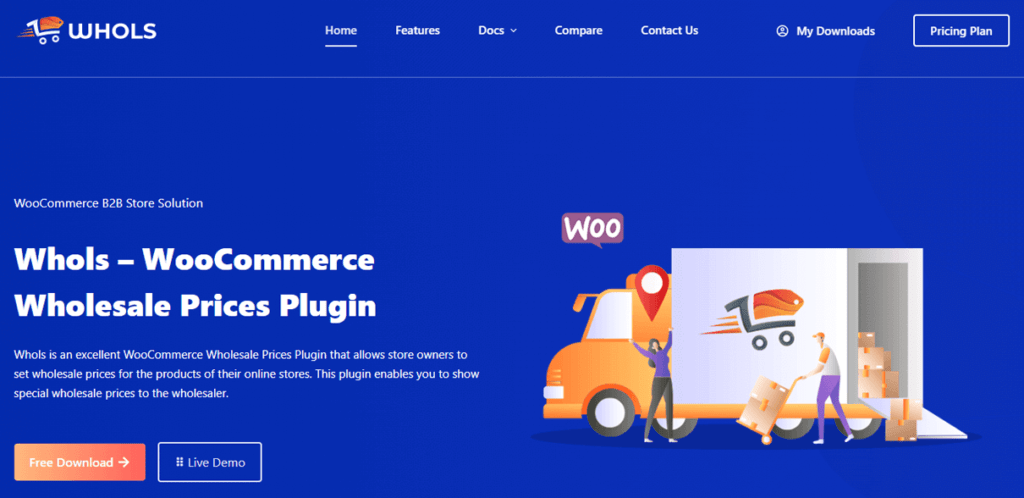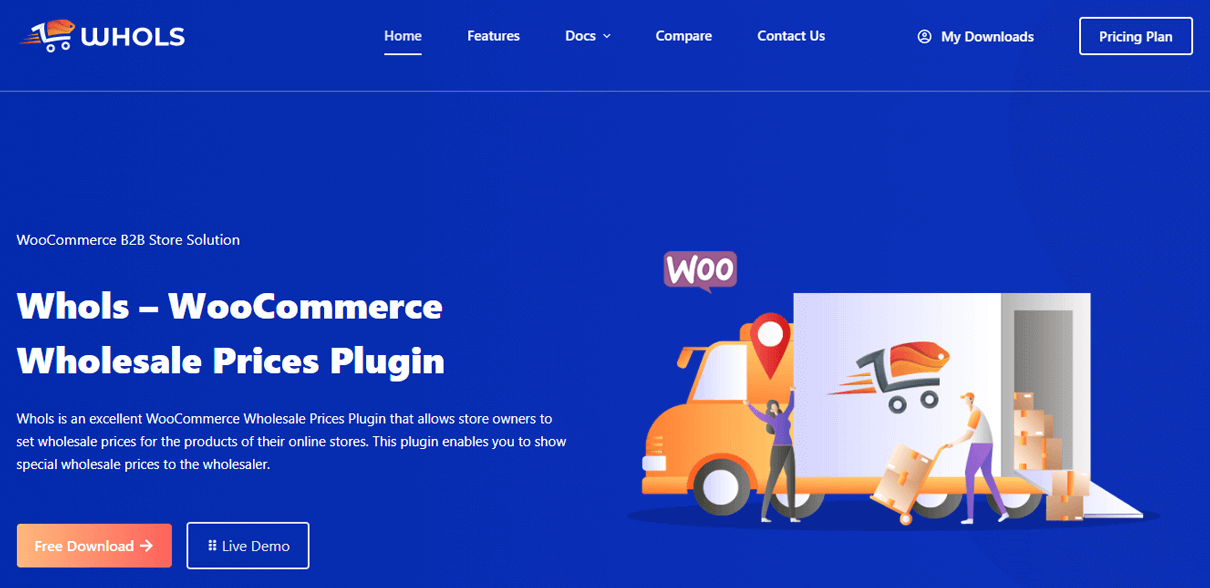 Additionally, the Registration Fields Manager gives you the flexibility to customize your registration form fields as needed. You can also redirect users to a specific page after they complete the registration process. Overall, Whols is a seamless and effective pricing management tool that can save you time while still maintaining the high standards of your online store. Give it a try today and see for yourself why it's a great alternative to B2B King.
Key Features
Wholesaler Registration
Registration Fields Manager
Wholesaler Request Management
Category Wise Product Price Set
Pricing
Yearly-
1 website: $79
5 websites: $149
Unlimited websites: $249
Lifetime-
1 website: $199
5 websites: $299
Unlimited websites: $499
WooCommerce Wholesale Suite
If you're looking to maximize your store's potential for both B2B and B2B + B2C, WooCommerce Wholesale Suite is an excellent solution. With its comprehensive suite of features, you can streamline your wholesale operations and capture wholesale leads with ease. One of its standout features is the ability to create different pricing without duplicating your existing products, making it simple to offer exclusive discounts to wholesale customers.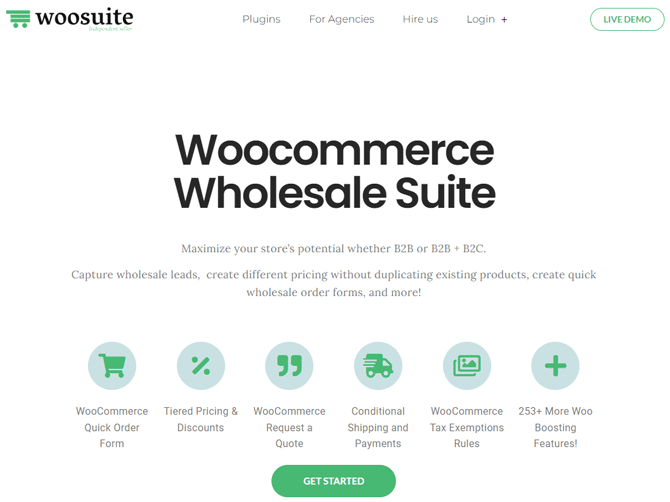 Additionally, you can create quick wholesale order forms and take advantage of WooCommerce's tax exemption rules to further simplify your processes. Plus, with over 253 additional features on offer, you'll be able to boost your store's performance and stay ahead of the competition. If you're on the lookout for B2B King alternatives, Woocommerce Wholesale Suite is definitely worth considering.
Key Features
Product Catalog
Wholesale inventory management
Dynamic pricing & discounts
Order forms allow customers to order 24/7
Create B2B and B2C wholesale store
Conditional shipping
Pricing
Annual-
Basic- 189/year
Professional- $249/year
All Access- $349/year
Lifetime-
Basic- $397
Professional- $547
All Access- $997
👉 View 5 Wholesale Suite Alternatives You Can Use to Grow Your Business
IgniteWoo WooCommerce Wholesale Suite Pro
Are you a WooCommerce store owner looking to expand your business through wholesale? Look no further than IgniteWoo WooCommerce Wholesale Suite Pro. This game-changing plugin allows store owners to create, manage, and customize a wholesale program with ease.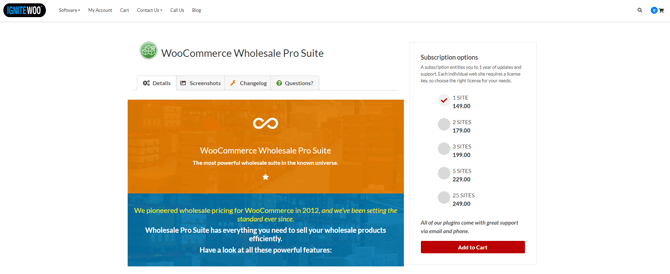 With the ability to set different pricing levels for each wholesale role and offer wholesale-specific discounts and promotions, this plugin is the perfect tool for those looking to retain their wholesale customers. Not to mention, it streamlines the wholesale order process by setting minimum order requirements and managing payment gateways.
Say goodbye to the hassle of managing a B2B program with limited features. Switch to IgniteWoo WooCommerce Wholesale Suite Pro and experience an all-encompassing solution for wholesale management.
Key Features
Multi-Tier Role-Based Pricing
Quantity Discounts and Cart Discounts
Product & Price Visibility Control
Display Prices With or Without Tax
Pricing
1 site- $149/year
2 sites- $179/year
3 sites- $199/year
5 sites- $229/year
25 sites- $249/year
👉 Check The 7 Best Wholesale Plugins for WooCommerce Store
Barn2 WooCommerce Wholesale Pro
For eCommerce store owners, creating a professional wholesale experience for their customers is essential to maintain loyal and repeat business. That's where the Barn2 WooCommerce Wholesale Pro plugin comes in. With its flexible customization options, store owners can easily set up custom user roles and assign access levels for their wholesale customers, ensuring a secure and private shopping experience.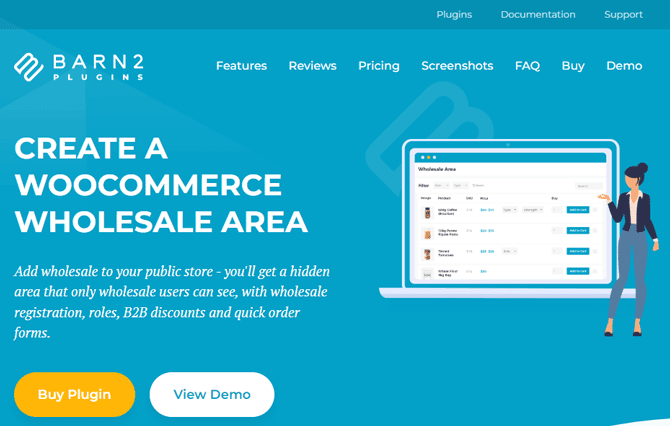 But the real standout feature of this plugin is its ability to manage product pricing for different user roles. Offering bulk wholesale prices and exclusive discounts to wholesale customers can help increase sales, making it easy to manage pricing. While there are other B2B King alternatives out there, none offer the same level of seamless integration and functionality as Barn2 WooCommerce Wholesale Pro.
Whether you're just starting out or looking to expand your wholesale offerings, Barn2 WooCommerce Wholesale Pro is the perfect solution for any online store.
Key Features
Unlimited Wholesale Roles
Wholesale Registration
Wholesale Visibility
Wholesale Order Forms
Pricing
Two bundle plugins- $149
One plugin- $99
👉 Read Maximizing Profits With Wholesale Branding: A Comprehensive Guide
WooCommerce B2B
As businesses continue to embrace eCommerce as a primary sales channel, it's important to have the right tools and solutions in place to streamline operations. The WooCommerce B2B plugin is a highly effective solution that businesses can consider. It offers a wide range of features that enable businesses to create and manage products, customize pricing, and easily manage orders and invoices.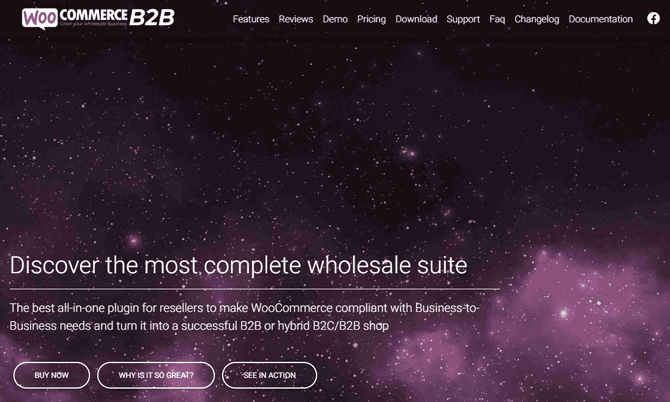 In addition to these core features, the plugin also offers customizable order forms, support for multiple currencies and languages, and integration with social media accounts. However, businesses may want to explore other alternatives, such as B2B King, to find the best-fit solution for their eCommerce needs. These alternatives offer their unique features and benefits, which may better suit certain business requirements.
By doing their due diligence and exploring multiple options, businesses can find the right solution to improve their eCommerce operations.
Key Features
B2B dedicated prices
Hidden prices and stocks
Product categories visibility
Prices by quantity
Pricing
Whols- WooCommerce Wholesale Plugin
Manage your WooCommerce online store with more ease and efficiency with this feature-rich plugin.
Frequently asked questions
How do I know if B2B King is not the right fit for my business?
Consider factors such as scalability, customization options, functionality gaps, and user experience. If B2B King falls short in these areas or doesn't align with your specific requirements, it may be worth exploring alternatives.
How can I ensure a smooth transition from B2B King to an alternative solution?
To ensure a smooth transition, follow best practices such as thorough planning, data migration strategies, employee training, and testing before fully adopting the new solution. It's also important to communicate with stakeholders, seek guidance from the alternative solution provider, and address any challenges proactively.
What ongoing support can I expect from B2B King alternatives?
B2B King alternatives generally provide varying levels of support, including technical assistance, regular updates and upgrades, documentation resources, and customer service channels. It's recommended to review the support offerings of each alternative solution and choose one that aligns with your business requirements.
Conclusion
As a business owner, choosing the right B2B King alternatives is crucial for maintaining success and growth. With so many options out there, it can be overwhelming to decide which platform to invest in. However, exploring the top alternatives can help you make the best decision for your business needs.
By considering factors such as cost, functionality, and user experience, you can identify the platform that will truly boost your business. Whether it's through increased efficiency in communication or better management of transactions, the right B2B King alternative can make all the difference.
So, take the time to explore your options and invest in a platform that will help you reach your business goals.