Are you running a WooCommerce store and looking for ways to expand your business by offering wholesale options? Look no further! In this blog post, we will explore the 7 best wholesale plugins for WooCommerce that will not only streamline your wholesale operations but also help you attract more customers and boost your sales.
Whether you're a small business owner or an experienced online retailer, these plugins will take your wholesale game to the next level. So, let's dive in and discover the power of Wholesale Plugins for WooCommerce!
The Need for Wholesale Plugins for WooCommerce
Online shopping has quickly become the go-to option for many consumers. With the rise of eCommerce, businesses need to keep up with the latest trends to stay competitive and profitable. Wholesale is one such trend that cannot be ignored. It offers a cost-effective way to buy in bulk and resell products at a profit.
The best wholesale plugins for Woocommerce are crucial in streamlining their wholesale operations. Wholesale plugins for WooCommerce provide essential functionality to cater to the needs of wholesale customers and manage wholesale prices effectively.
These plugins offer features such as setting up different user roles, displaying wholesale prices, and managing B2B customers. Here's why you may need wholesale plugins for WooCommerce:
Wholesale Pricing: Wholesale plugins allow you to set up wholesale pricing plans for specific products or categories. You can offer discounted prices to wholesale customers, encouraging bulk purchases and fostering long-term relationships with business clients.
User Roles and Access Control: Wholesale plugins help you create user roles and manage access control. You can differentiate between retail and wholesale customers, granting specific privileges, such as access to wholesale catalogs or exclusive product offerings, to the appropriate user roles.
Flexible Pricing Structures: With wholesale plugins, you can implement flexible pricing structures based on quantity thresholds or customer groups. This allows you to offer tiered pricing or volume-based discounts, catering to the specific needs of your wholesale customers.
Order Management: Wholesale plugins provide tools for efficient order management. They enable features like minimum order quantities, wholesale order forms, and quick order functionalities, simplifying the ordering process for wholesale customers and improving overall productivity.
Customized Product Catalogs: Some wholesale plugins allow you to create customized product catalogs for different customer groups. With these plugins, you can display specific products or product variations exclusively to wholesale customers, tailoring their experience and streamlining their purchasing journey.
Integration and Compatibility: Wholesale plugins are designed to integrate seamlessly with WooCommerce, ensuring compatibility with other essential plugins and extensions. This plugin ensures a smooth workflow and avoids conflicts while managing wholesale operations within your WooCommerce store.
Implementing wholesale plugins for WooCommerce provides a comprehensive solution to cater to the unique requirements of your wholesale customers. By offering specific pricing options, user roles, and streamlined order management, these plugins contribute to a more efficient and tailored wholesale experience.
Whols- WooCommerce Wholesale Plugin
Manage your WooCommerce online store with more ease and efficiency with this feature-rich plugin.
Review of the 7 Best Wholesale Plugins for WooCommerce
Whols
If you're looking for the best wholesale plugin for your WooCommerce online store, look no further than Whols. This powerful wholesale plugin enables store owners to set special wholesale prices for their products, making it easy to attract and retain wholesale buyers.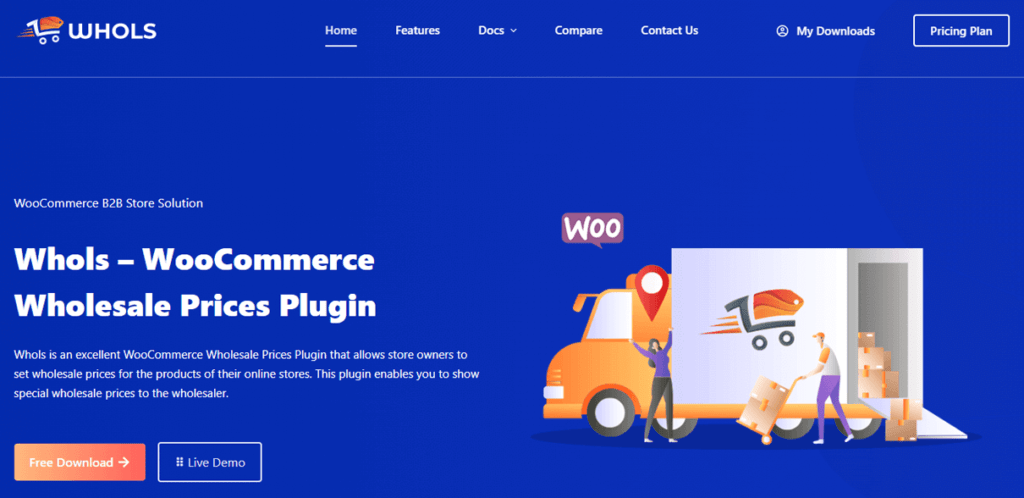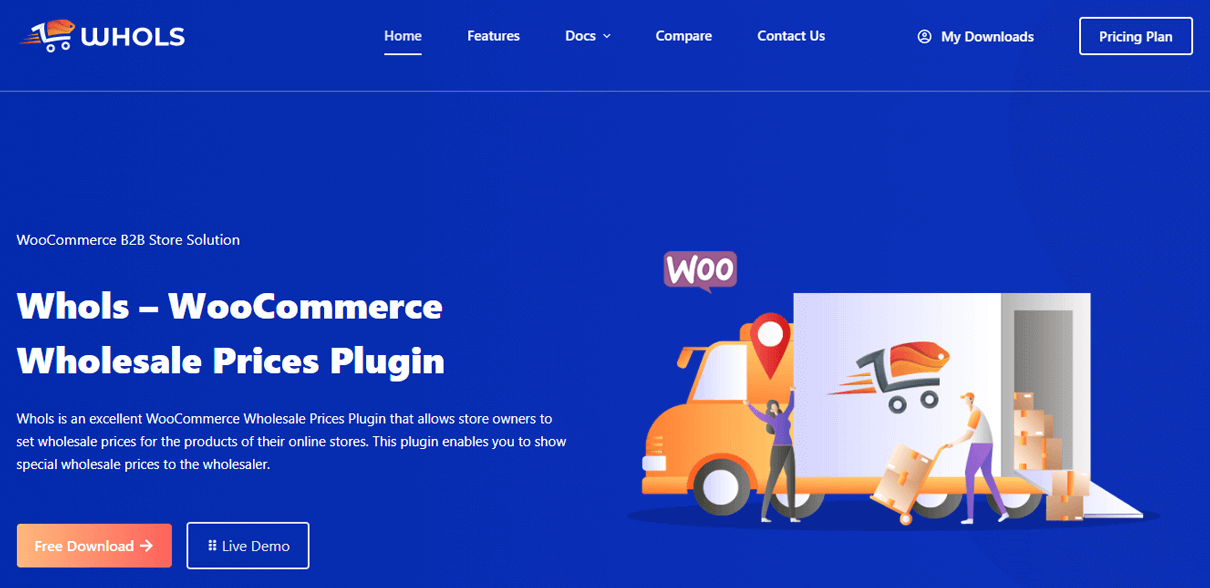 With Whols, you can customize your wholesale pricing and display your unique pricing to your wholesalers, all without the need for complex coding or technical knowledge.
This powerful and versatile plugin allows you to give different pricing to different types of wholesalers, making your business more attractive to a wider range of clients. The Registration Fields Manager feature also lets you add, remove, and customize registration fields for wholesalers, making it easy to collect the information you need.
With the ability to redirect users to a specific page after completing the registration process, it's easy to provide a seamless and professional experience for your clients. Whether you're just getting started with wholesale pricing or looking to take your existing program to the next level, Whols is an excellent choice.
Highlighted Features
Wholesaler Registration
Registration Fields Manager
Wholesaler Request Management
Category Wise Product Price Set
Pricing
Yearly-
1 website: $79
5 websites: $149
Unlimited websites: $249
Lifetime-
1 website: $199
5 websites: $299
Unlimited websites: $499
Wholesale Suite
When it comes to finding the best wholesale plugin for WooCommerce, Wholesale Suite stands out as the clear winner. With over 20,000 websites powered by this industry-leading plugin, it's no surprise that Wholesale Suite is statically the number 1 WooCommerce wholesale plugin. Explicitly designed for B2B businesses, WooCommerce Wholesale Suite offers a vast range of features, including wholesale prices, B2B catalog mode, order forms, and dynamic pricing.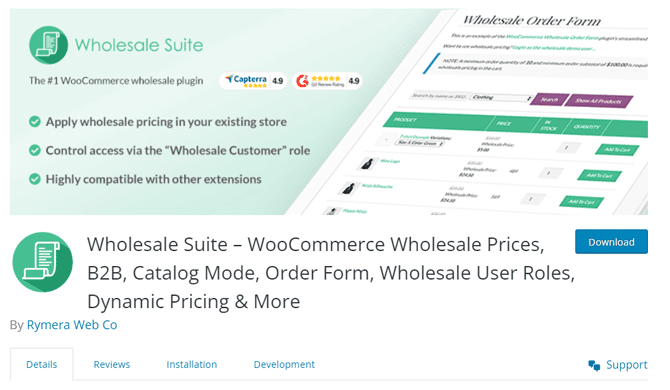 This plugin also comes with wholesale user roles, enabling you to manage wholesale customers easily. Furthermore, it is integrated with top WooCommerce extensions, making it a seamless addition to your existing WooCommerce store. Whether you're looking to expand your B2B business online or streamline your existing wholesale operations, Wholesale Suite has everything you need to succeed.
Highlighted Features
Wholesale Product Visibility
Show/hide the retail price from wholesale customers
Private store/WooCommerce catalog mode option
Disable WooCommerce coupons for wholesale customers
Adjust the wholesale user role name & wholesale price text
Works with any theme
Pricing
Growth Bundle: $148/year
Business Bundle: $298/year
👉 Learn What is a Limited Quantity Item?: Everything You Need To Know
WholesaleX
If you're looking for the best wholesale plugins for WooCommerce, look no further than WholesaleX. With this intuitive and user-friendly solution, you can easily introduce full-fledged wholesale functionality to your existing retail store. Say goodbye to the hassle of creating separate stores for wholesale and retail customers.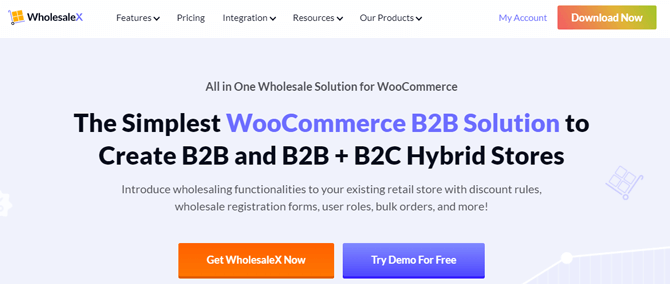 With WholesaleX, you can set wholesale pricing based on user roles, restrict guest access to your store, and even hide specific products or attributes from certain customers. The result? A streamlined wholesale experience that boosts your sales and simplifies your operations. So why wait? Try WholesaleX today and see the difference for yourself.
Highlighted Features
User Role Management
Product Visibility Control
Multiple Pricing Tiers
Dynamic Discount Rules
Pricing
Yearly
Free: $0
Starter: $103
Agency: $209
Business: $149
Lifetime
Free: $0
Starter: $199
Agency: $419
Business: $279
👉 Read Maximizing Profits With Wholesale Branding: A Comprehensive Guide
Wholesale For WooCommerce
If you currently have an online store using WooCommerce and want to expand your product offerings to include wholesale items, you don't need to start from scratch. The WooCommerce wholesale plugin, Wholesale for WooCommerce Lite, is a great option to help you easily add wholesale prices to your existing products. Not only can you have both retail and wholesale products on the same site, but you can also set up a registration form for your wholesalers.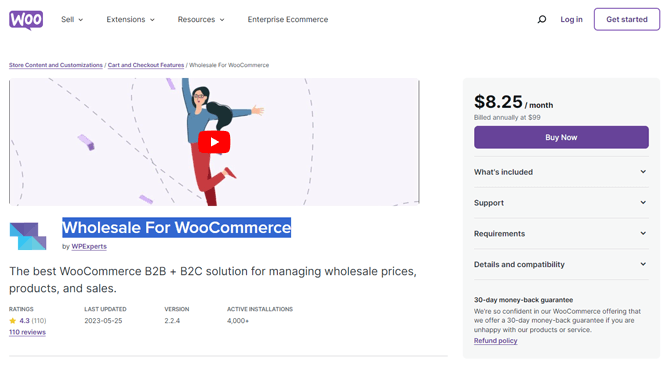 Once they sign up, you can assign them a "Wholesaler" role, and they will be able to view the wholesale prices and make purchases accordingly. This plugin also allows you to add wholesale prices to each variation of a variable product, making it incredibly flexible. And who doesn't love saving money? You can even display the amount that customers are saving on your wholesale products to create a buzz and encourage more purchases.
Overall, this is a great option for any WooCommerce store owner looking to expand into the wholesale market.
Highlighted Features
Custom User Roles & Role-Based Pricing
Wholesale Registration Form
Private Store for Wholesale Customers – Hide Wholesale Products & Prices
Tiered Pricing for Wholesale Customers
Pricing
Monthly: $8.5
Annually: $99
👉 Check 5 Wholesale Suite Alternatives You Can Use to Grow Your Business
WooCommerce B2B
For businesses looking to take their online stores to the next level, WooCommerce B2B is an excellent solution to consider. With just one powerful plugin, it's possible to create a robust hybrid B2B or B2B/B2C store without having to fuss over complicated coding or customization.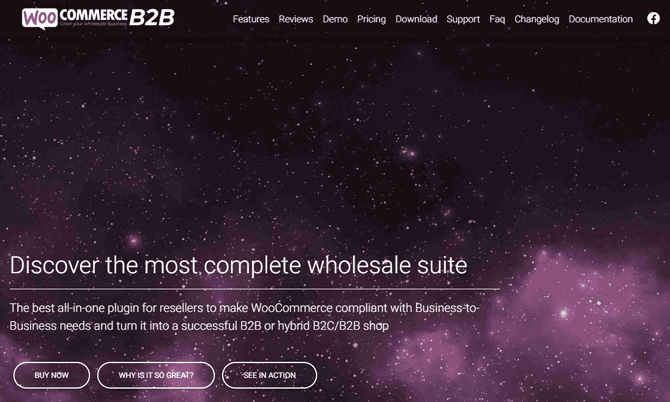 Key features like dynamic and varied pricing lists, bulk discounts, and minimum purchase quantities make it easier than ever to manage complex transactions and organize customer data.
The management of payment and shipping methods, as well as advanced tax management, are also fully supported by this plugin. In short, if you're looking for a feature-rich and user-friendly way to create a professional WooCommerce product store, WooCommerce B2B is a top contender.
Highlighted Features
Wholesale prices and prices by quantity (tier prices)
Hide product prices
Different registration forms with approval
Minimum/Maximum product quantity and stock packages
Minimum purchase amount and different fees
Pricing
Regular License: $99
Extended License: $199
👉 Learn How to Sell Wholesale Clothing Online: A Step-By-Step Guide
Premmerce Wholesale Pricing for WooCommerce
The Premmerce Wholesale Pricing for WooCommerce plugin is the solution you need if you operate an online store and require a hassle-free means of adding wholesale prices or custom prices. It is designed to work efficiently with the Premmerce User Roles plugin, enabling you to create and assign additional roles for your users from the dashboard.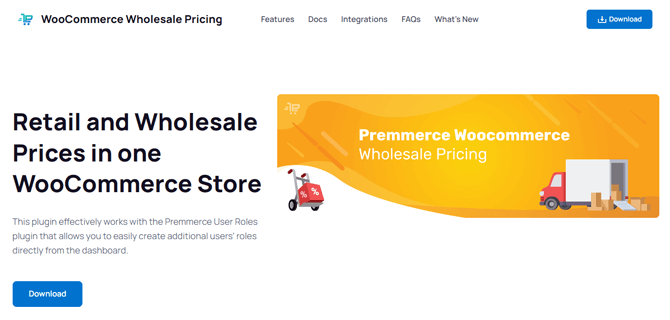 This plugin streamlines your workflow by offering simple yet powerful features. This wholesale price plugin enables you to set up additional user roles directly from the dashboard and was created to work in conjunction with the Premmerce User Roles plugin. The compatibility with WooCommerce, WooCommerce Multilingual, and WPML ensures that any language can be supported.
It's easy to set up, efficient, and simplifies the wholesale process by enabling you to offer special discounts to users based on their roles. Rest assured, with the full documentation available, setting up your Wholesale Product store has never been easier.
Highlighted Features
WooCommerce Multilingual
WPML
Premmerce User Roles
Pricing
Pro: $299.99
Standard: $99.99
👉 Check Level Up Your Wholesale Marketing With These 10 Proven Strategies
Wholesale Market
The Wholesale Market WooCommerce extension is a great way to take your online wholesale business to the next level. With the capability to create wholesale users and set special privileges, you can ensure that your wholesale customers receive the best prices possible.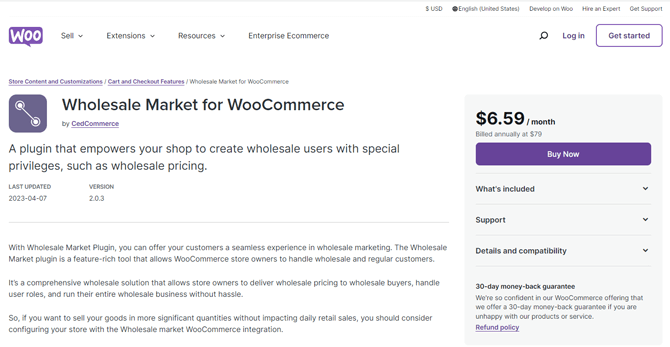 The new Wholesale Market 2.1.1 update has all the features suggested by the WordPress Community, making it more user-friendly than ever before. One of the best features is the ability to create Wholesale-Customer User Roles, giving your wholesale customers the option to buy products at wholesale prices.
In addition, the extension also provides an option to enable a minimum product to buy, helping you streamline your wholesale business even further. With the new meta-fields in the product panel, you can enter wholesale prices for both simple and variable products, giving you greater control over your pricing.
If you're looking to take your online wholesale business to the next level, the Wholesale Market wooCommerce extension is definitely a must-have.
Highlighted Features
Create Wholesale-Customer User Role
Users having wholesale roles assigned can buy products at wholesale price
Option to enable minimum product to buy
Add meta-fields in the product panel to enter wholesale prices for simple as well as variable products.
Pricing
Monthly: $6.59
Annually: $79
Whols- WooCommerce Wholesale Plugin
Manage your WooCommerce online store with more ease and efficiency with this feature-rich plugin.
Tips for Selecting the Right Wholesale Plugin
When selecting the right wholesale plugin for your eCommerce store on the WooCommerce platform, there are several factors to consider. Here are some tips to help you make an informed decision:
Compatibility
Ensure that the wholesale plugin is compatible with your version of WooCommerce. Check if it has been tested and updated regularly to work seamlessly with the latest WooCommerce updates.
Features and Functionality
Evaluate the features offered by the wholesale plugin. Look for essential capabilities such as setting wholesale pricing, creating user roles, managing access control, and customizing product catalogs. Consider your specific needs as a wholesale business and choose a plugin that meets those requirements.
Ease of Use
Opt for a wholesale plugin that is user-friendly and intuitive. It should have a clear and well-designed interface that allows you to easily configure settings, manage user roles, and update wholesale prices without technical expertise.
Flexibility in Pricing Structures
Select a plugin that provides flexible pricing structures to accommodate different types of wholesale customers. Look for options to offer tiered pricing, volume-based discounts, or minimum order quantities. This flexibility will enable you to cater to your wholesale clients' specific needs effectively.
Integration with Other Plugins
Consider whether the wholesale plugin integrates well with other essential plugins or extensions that you use on your WooCommerce store. Compatibility with popular payment gateways, shipping plugins, and inventory management tools can streamline your wholesale operations.
Support and Updates
Ensure that the plugin offers reliable support and receives regular updates. Look for documentation, tutorials, or a knowledge base provided by the plugin developer. Prompt and helpful customer support can be crucial when you encounter any issues or need assistance with the wholesale plugin.
User Reviews and Ratings
Read user reviews and ratings of the wholesale plugin you are considering. This will give you insights into other users' experiences and help you gauge the plugin's effectiveness, reliability, and customer satisfaction.
By considering these tips and evaluating the features, compatibility, ease of use, flexibility, support, and user reviews, you can select the right wholesale plugin for your WooCommerce store. This will enable you to effectively manage your wholesale business while catering to the unique needs of retail customers.
Conclusion
In conclusion, selecting the right plugins for your wholesale eCommerce store site can make all the difference. WooCommerce is an excellent platform for wholesale stores, and with the seven wholesale plugins highlighted in this article, you can improve your inventory management, pricing, and buyer experience. Wholesale eCommerce stores can benefit greatly from the plugins we have put together in this list.
The chosen plugins have a wide range of features that will undoubtedly help you run your business efficiently while providing your customers with an excellent shopping experience. Keep in mind that the best wholesale plugins for WooCommerce vary depending on your business needs, but this list serves as an excellent starting point to improve your eCommerce store.