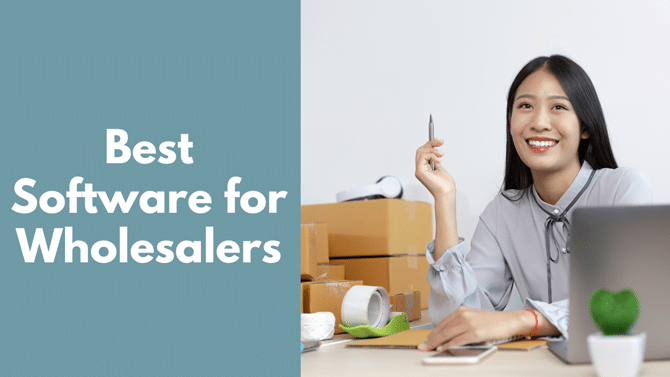 Are you looking for the best software for wholesalers? If so, you've come to the right place! This blog post will discuss five of the best software solutions for wholesale businesses. These platforms can help you manage inventory, process orders, and more. So, whether you're just starting in the wholesale trade or looking for ways to improve your operations, these tools will surely help!
Definition of Wholesale Business
Wholesale business, or simply wholesaling, is the process of distributing goods to retailers in large quantities at a discounted rate. Wholesale business typically involves directly selling products from a manufacturer to an intermediary, such as retailers, while excluding end-consumers from the sales process.
Wholesalers are responsible for effectively managing warehousing and transportation logistics so that goods can be easily and quickly distributed to retail stores.
Wholesale distribution provides many advantages for businesses, such as access to a large range of products for purchase at competitive prices, which can help increase product availability and reduce inventory costs.
Wholesaling is an essential part of the global economy, providing crucial support for many businesses by enabling them to access low-cost goods and supply them at competitive rates.
Benefits of Using Software Solutions
Wholesale distribution software is a powerful tool that can significantly improve a company's performance. By streamlining various processes and procedures, such software can help to reduce and eliminate redundant tasks, freeing up staff for more valuable endeavors. In addition, this type of software often provides comprehensive business insights, allowing decision-makers to quickly identify opportunities and respond accordingly.
Some of the benefits of using Software Solutions for Wholesale distribution are-
Streamlined inventory management: Software solutions can help streamline the inventory process, reducing costs and increasing accuracy.
Automation of processes: Software solutions can automate certain tasks such as invoicing, ordering, and customer service.
Improved customer experience: Software solutions can provide customers with an easier way to manage their orders, track shipments, and receive orders faster.
Accurate data analysis: Software solutions can provide insight into customer behavior and trends that could be used to optimize operations.
Increased efficiency: Software solutions can help to reduce waste and speed up supply chain processes, leading to increased efficiency.
The 5 Best Software for Wholesalers
Whols- WooCommerce Wholesale Plugin
Whols WooCommerce Wholesale Prices Plugin is a versatile and powerful wholesale distribution software that gives store owners maximum control in setting and managing wholesale prices.
This top-notch WooCommerce plugin simplifies the process of determining wholesale margins, increasing overall efficiency and profitability. This robust plugin includes features such as instant pricing changes, item-level custom pricing, discount schedules, tiered discounts, and advanced subscription features.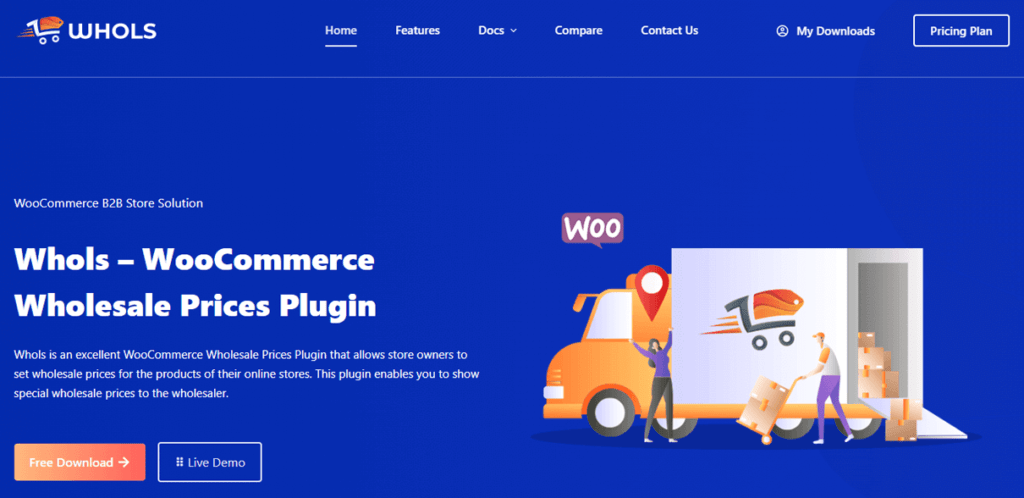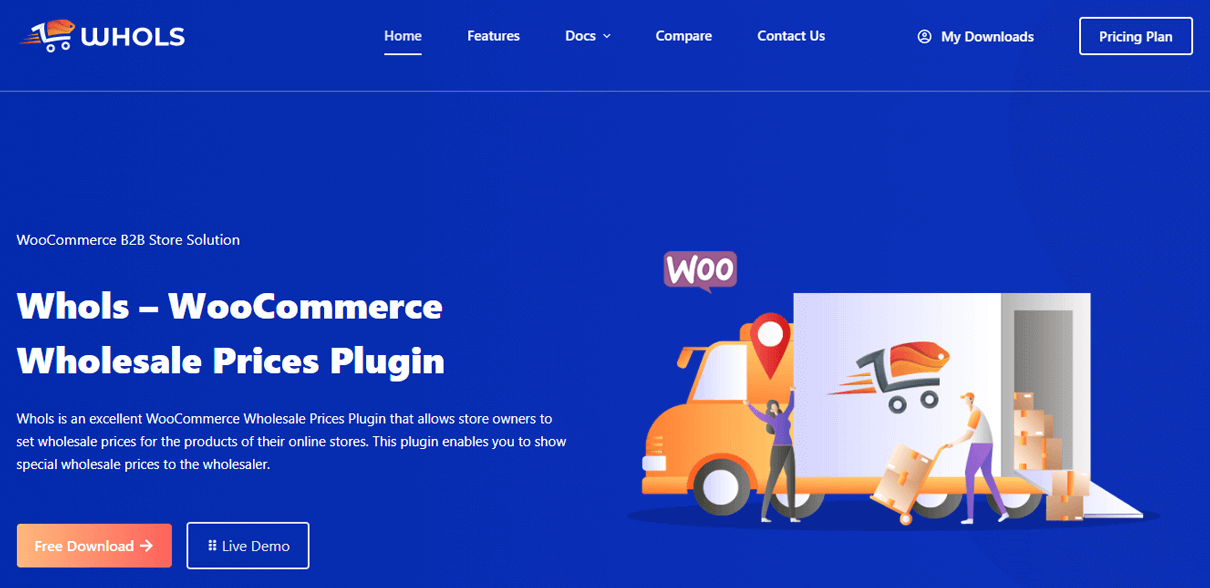 Therefore, this exclusive wholesale WooCommerce plugin helps maximize success and profits by allowing store owners to apply appropriate prices to items while benefitting from increased sales opportunities associated with special offers.
In short, Whols delivers great savings in terms of time spent setting prices, thus leading to total cost savings for businesses.
It allows store owners who use the WooCommerce platform to easily create discounted prices exclusively for wholesalers, granting them more control over pricing and helping them generate more sales. Whols also ensures that only approved customers can access these special deals and offers. Give it a try today if you use WooCommerce to craft your online store.
Key Features
Wholesaler Registration
Registration Fields Manager
Set Default Wholesaler Role For Wholesale Registration
Wholesaler Request Management
Category Wise Product Price Set
Pricing
Yearly-
1 website for $79
5 websites for $149
Unlimited websites for $249
Lifetime-
1 website for $199
5 websites for $299
Unlimited websites for $499
Syspro ERP
SYSPRO ERP is an excellent choice for businesses that have complex sales, distribution, and manufacturing operations. It provides a modular solution that can be tailored to fit individual needs within the same framework. With SYSPRO ERP, companies can easily manage inventory, configure advanced pricing rules, and automate repetitive tasks.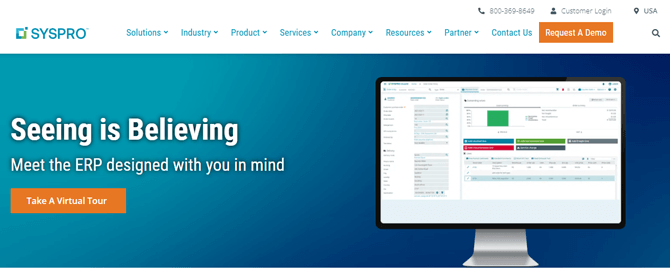 SYSPRO ERP allows businesses to access comprehensive tools that are invaluable when it comes to managing warehouses, invoicing management, and purchasing from local and global suppliers. Through centralized visibility of sales, orders, inventory levels, and accounts, the user can make informed decisions that improve efficiency and better control cash flow.
All modules within the platform are easy to customize to suit business needs without requiring any coding experience. With this highly scalable and affordable solution, businesses can streamline operations for better results.
Key Features
Order management
Lean inventory management
Product information management
👉 Check 5 Wholesale Business Ideas That Work
QuickBooks
QuickBooks is a powerful sales distribution software solution designed especially for small and medium-sized wholesale businesses. It helps to streamline the entire operation by automating mundane tasks, reducing errors, improving accuracy, and significantly increasing visibility into performance metrics. It is also highly effective for eCommerce businesses who need access to it anytime, anywhere.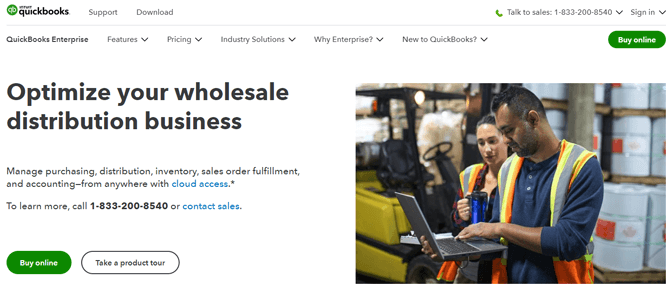 This software allows for an easy way to monitor account balances, orders, late payments, and full transaction history with ease. Additionally, the eCommerce Sales Distribution Software is integrated with sales and inventory data to facilitate the order routing procedure and measure critical Key Performance Indicators (KPIs) specific to your organization. By implementing this system, businesses can easily view their sales data and make the best decisions for success.
With its cloud-based distribution platform, QuickBooks Commerce ensures that businesses have real-time control over their inventory and pricing structure.
By incorporating leading technology into its system, QuickBooks provides reliable data accuracy along with increased visibility and flexibility in the management of anything related to your business's sales distribution operations.
Key Features
Order fulfillment
Multichannel inventory management
Customer relationship management
Accounting and report management
Pricing-
Local Only:
Gold: $1830/yr
Platinum: $2250/yr
Diamond: $4440/yr
Cloud Access:
Gold with core cloud access: $206/month
Platinum with core cloud access: $241/month
Diamond with core cloud access: $424/month
👉 Learn Dropship vs Wholesale: Which is Right For Your Business?
BlueCart
BlueCart is the perfect choice for B2B wholesalers in the food, restaurant, and hospitality industries. Whether you are just starting out or are an experienced distributor, BlueCart simplifies the entire wholesale distribution process by providing a powerful all-in-one eCommerce solution.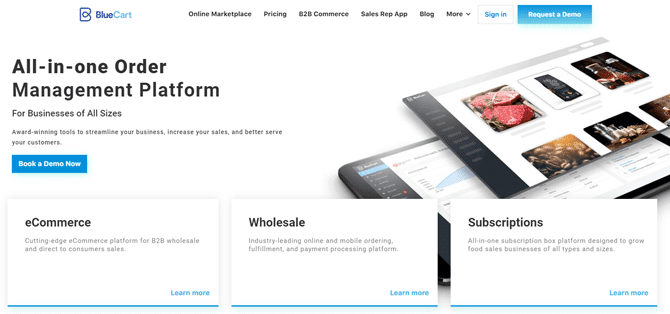 Wholesale distributors will benefit from their many features, including consolidated order management, marketplace integrations, and reliable customer tracking.
Their wide range of process workflows, such as order management, vendor management, billing automation, subscription management, and eCommerce marketing, as well as SEO storefront optimization, provides users with the capability to customize their eCommerce marketplace and take advantage of their built-in CRM system.
Therefore managing warehousing operations and expanding one's business efforts within the same system is now a reality. With robust tools to support streamlined fulfillment and integrations that connect various digital markets, BlueCart has revolutionized the way businesses manage their wholesale distribution needs. Make your business work smarter with BlueCart's simple but sophisticated wholesale distributor software!
Key Features
Customer relationship management
Inventory management
Order fulfillment
Recurring billing management
Customization and visibility management
Route and delivery management
Unlimited storefronts and digital catalogs
Pricing
Listing Fee: $10/month
Listing Fee: $200/month
Wholesale or Enterprise
👉 Learn How to Create a Wholesale Store in WooCommerce in Just a Few Easy Steps
Netsuite
NetSuite is an invaluable cloud-based solution management system designed specifically for wholesale businesses. It embodies comprehensive sales and distribution software to help your store optimize day-to-day operations and streamline procedures. With this advanced system, you can save time and money, reduce errors, and stay competitive in the market with powerful forecasting capabilities.

Specifically, retail, energy, and manufacturing industries can be empowered by the essential streamlined tasks it provides – inventory tracking, order fulfillment, and supplier and vendor relationship management. This robust system helps to parallel projects quickly and seamlessly, allowing companies to stay competitive in their respective industries.
While there are many advantages to using Netsuite, it is not the most accessible or user-friendly option for new users. In fact, due to its complicated interface and lack of guidance, it can be quite bothersome for those who are just beginning to join the Netsuite ecosystem. This can cause unnecessary headaches as proper navigation through the platform isn't always intuitive enough for users, regardless of their experience level.
Key Features
Manage order, vendor, and warehouse optimization tasks.
Use the omnichannel commerce feature to reach customers online, by phone, or over email
Access supply chain portals for your vendors, customers, and sales partners to maximize efficiency
Plan, budgeted, and analyzed finances
Whols- WooCommerce Wholesale Plugin
Manage your WooCommerce online store with more ease and efficiency with this feature-rich plugin.
Frequently Asked Questions
What features should I look for in a wholesale software solution?
When selecting a wholesale software solution, it's important to consider features such as scalability, customization options, automation capabilities, security protocols, and support services.
Is there a free software solution for wholesalers?
Yes, some popular software solutions, such as WordPress and Magento, offer free versions of their platforms with limited features.
How can I make sure my chosen software is a good fit for my business?
If you want to ensure that you have chosen the perfect software for your business, it's important to do research into different solutions and read reviews from other users. Furthermore, it's advisable to organize a demonstration with the supplier so that you can see how the system works in practice.
Conclusion
The software solutions we have discussed provide comprehensive sales and distribution assistance that makes it easier for wholesalers to expand their reach and manage their processes. While the features of each solution are unique, they all present efficient ways to boost your wholesale business potential.
Ultimately, your choice should depend on the specific needs of your organization. When deciding which platform best suits you, go through the demos, reviews, and customer service options available to make the right decision for your business.