In the ever-changing world of retail, staying current on the latest trends and products that are popular among customers can be difficult. As a wholesale business owner, it's important to research the best products to sell to maximize profits and ensure customer satisfaction.
To help you get started, we've compiled a list of the 10 best wholesale products to sell in 2023. Read on to discover these must-have items and how they can help your wholesale business succeed.
Definition of wholesale products
When it comes to buying products, most of us think only in terms of the retail price. But have you ever wondered how retailers get those products to sell in the first place? That's why wholesale products come in. Wholesale suppliers sell products to eCommerce stores at wholesale prices lower than the retail price.
Retailers can then add their own markup to the wholesale cost to arrive at the retail price that we end up paying. So the next time you shop, take a moment to appreciate the behind-the-scenes work of wholesale marketplaces. It's the lifeblood of the entire retail industry!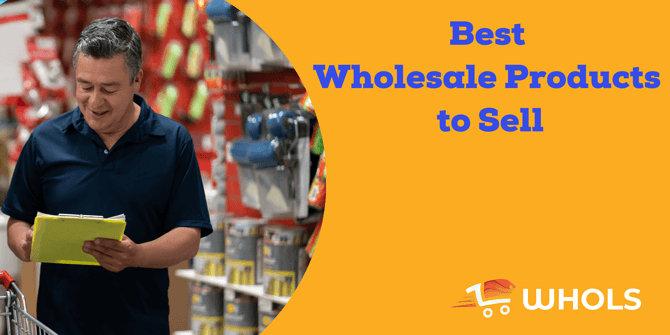 Benefits of selling wholesale products
Selling wholesale products online can be an excellent choice for eCommerce businesses looking to simplify their operations. Rather than selling individual items retail, wholesalers get to offload products in bulk to consumers. This not only saves time and costs on handling but also drastically reduces overhead expenses.
Plus, with the ability to keep all products in one location, wholesale sellers can reduce warehouse costs even further. Overall, becoming a wholesaler can make running a wholesale business easier, more cost-effective, and more profitable in the long run.
Things to Consider to Run a Profitable Wholesale Business
When running a profitable wholesale business, there are several important factors to consider. Some of these factors include:
Profit Margins:
Analyze the profit margins for the products you offer. Higher profit margins allow for more significant returns on each sale, contributing to the overall profitability of your eCommerce business.
Seasonality:
Take into account the seasonality of the products you plan to sell wholesale products. Some products have consistent demand throughout the year, while others are more suitable for specific seasons or occasions. Aligning your product offerings with seasonal demand can optimize sales and profitability.
Competition:
Evaluate the level of competition in the wholesale market for the products you intend to sell. Consider the number of sellers offering similar products and assess their pricing strategies. While competition can indicate wholesale market demand, it's crucial to set competitive wholesale prices to attract customers and maintain profitability.
Size and Weight:
Consider the size and weight of the products as they impact shipping costs and storage space. Heavier or larger products may result in higher prices for shipping, which can affect your overall profitability. Additionally, the physical space required to wholesale store inventory should be factored into warehousing costs.
Sellability:
Assess the chances of reordering the products you offer. Some products may have high demand initially but may not be frequently reordered. Evaluate the potential for repeat purchases, as products with a higher likelihood of reordering can contribute to long-term profitability.
Whols- WooCommerce Wholesale Plugin
Manage your WooCommerce online store with more ease and efficiency with this feature-rich plugin.
Where You Can Research About Profitable Wholesale Products
When researching profitable best wholesale products to sell, there are several avenues you can explore to find potential suppliers and products. Here are three effective methods to consider:
Use a Supplier Directory:
Supplier directories are online platforms that provide a comprehensive list of verified suppliers across various industries. These directories allow you to search for wholesale suppliers based on specific criteria, such as product category, location, and minimum order quantities.
Some popular supplier directories include Alibaba, Thomasnet, and Worldwide Brands. These directories can help you discover a wide range of products and connect with reputable suppliers.
Visit an Online Wholesale Marketplace:
Online wholesale marketplaces, such as Amazon Wholesale, eBay Wholesale Deals, and Wholesale Central, bring together multiple suppliers and products in one platform. These eCommerce marketplaces provide a convenient way to browse and compare different products and wholesale suppliers.
You can often find detailed product information, pricing, and customer reviews to help you assess the profitability and marketability of the products you're interested in.
Contact Manufacturers Directly:
If you have specific products in mind, reaching out to manufacturers directly can be an effective way to source wholesale products. Manufacturers often have a better understanding of their product range and can provide you with information on cheap wholesale products, minimum order quantities, and potential distribution opportunities.
You can find manufacturer contact information through online searches, industry trade shows, or by contacting relevant industry associations.
Best Wholesale Products to Sell in 2023
Clothing and apparel
When it comes to making a profit, clothing and apparel, have always proven to be a reliable option. Not only is it something that people always need, but it's also an industry with endless possibilities. While the wholesale market may seem somewhat crowded already, don't let that deter you.
Instead, research to ensure you're offering cheap and best wholesale products to sell that are unique and worthwhile. One way to do this is by catering to specific markets, like petite or plus-size individuals, or by finding niche clothing items that your customers won't be able to find anywhere else. So if you're looking for a business venture that's both fun and lucrative, look no further than selling wholesale clothing items.
Jewelry
Wholesale fashion jewelry is an affordable product with a high profit potential. As a low-cost wholesale item to source, jewelry can be purchased by the dozens or hundreds of pieces at a time for mere pennies per item. This includes trending products such as necklaces, bracelets, earrings, and rings in trendy designs made of materials like metal alloys, gemstones, beads, pearls, and more.
With markups of 100% or more, a collection of inexpensive yet chic jewelry pieces can be an easy way for retailers to start selling wholesale products online and generate strong sales and returns on a small investment.
Electronics
The electronics industry offers many appealing business opportunities. Products like smartphones, laptops, tablets, and other gadgets are in high demand, with many consumers constantly upgrading their devices.
This leads to a steady stream of sales with solid profit margins. In addition, the industry has relatively low competition, allowing small businesses to establish a foothold.
And with long product shelf lives, electronic items can be purchased in bulk and stored until needed, avoiding concerns about quickly becoming obsolete. Electronics can be an attractive market for aspiring entrepreneurs with strong sales, decent margins, low competition, and longevity.
Beauty and self-care products
The beauty and self-care industry has seen explosive growth in recent years. Consumers are investing more of their budgets into skincare routines, makeup products, hair care, and other items that help them feel and look their best.
This offers plenty of chances for businesses to participate and profit from the action. Smaller enterprises can do well because there are so many rivals in the market for beauty and self-care products, which often have high margins.
The benefits of these wholesale products are easy to communicate, and they are straightforward to package and ship in a variety of sub-niches. With so many upsides, beauty, and self-care products are profitable wholesale items for businesses to consider carrying.
Pet Supplies
Wholesale businesses selling these products are always in demand and can offer many benefits. One of the most appealing aspects is the potential for high profits. Unlike other products, pet supplies are always needed, making them easy to sell.
Plus, competition in this industry is relatively low, and there are often opportunities to sell products online or at a discount. Additionally, seasonality is typically not a problem, and they are typically simple to transport and store. Overall, pet supplies make for an easy and lucrative business opportunity.
Outdoor Hobby Supply/Equipment
From tents to sleeping bags to cooking utensils, you'll want to make sure you have everything you need for a cozy and efficient camping experience. If you prefer a day at the beach, get your hands on fun, cheap wholesale products like beach chairs, umbrellas, and coolers to keep drinks and snacks handy.
Don't forget to pack swim gear, such as goggles and floaties, for some splashing fun in the waves. While this category may have seasonal demand, it's perfect for those looking to focus on a more niche area.
Lifestyle Goods
Whether you're looking to spruce up your home with some cozy blankets or refresh your makeup collection with new cosmetics, there's something for everyone in the world of lifestyle products. Need some motivation for your fitness journey? Look no further than the countless fitness accessories available to help you reach your goals. Lifestyle goods can be a fun and easy way to add extra joy to your day-to-day life.
Automotive Parts
Automotive parts and accessories can provide a great niche market for wholesale products to sell to those interested in repairing and upgrading their vehicle. Plus, you'll find a ton of options as new parts and features come to market every year.
With the constantly evolving auto industry, there will always be new ways to improve your ride. Whether you're looking for performance upgrades or want to customize your vehicle, the automotive parts and accessories market is a great place to start.
Sports Accessories
Sports equipment and supplies are necessary for any game or hobby activity. Whether it's a tennis racket for a fun match at the park, a basketball for a pickup game with friends, or hobby sports equipment and gear for a more involved activity, having the right equipment can make all the difference.
It's exciting to browse the wholesale items such as sporting goods and equipment available and imagine what you could achieve with them. From beginner athletes to seasoned veterans, having the right supplies is crucial for a successful and enjoyable experience.
Furniture
Furniture and office equipment are always in high demand, and for good reason. They add functionality and style to our living spaces. From cozy couches and sectionals to elegant kitchen and dining room sets, it's no surprise that furniture can be a bit pricey. But don't let that deter you from jumping into the market.
You don't necessarily need to sell wholesale products in bulk to make a healthy profit. Plus, imagine the satisfaction you'll feel when you help others create their dream home with your quality furniture pieces.
Whols- WooCommerce Wholesale Plugin
Manage your WooCommerce online store with more ease and efficiency with this feature-rich plugin.
Frequently Asked Questions
How do I find wholesale products to sell?
You can find wholesale products to sell through wholesale directories, trade shows, sell products online on wholesale marketplaces, or by reaching out directly to manufacturers or distributors.
What types of products can I sell wholesale?
You can sell almost any type of product wholesale, including apparel, electronic items, beauty products, home goods, and more.
How do I determine pricing for my wholesale products?
To determine pricing for your wholesale products, start by calculating your total costs, including the product cost, shipping, warehousing, and any additional fees. Then, add a markup to ensure a profit.
Do I need special licenses or permits to sell wholesale products?
The licenses and permits required to sell wholesale products vary depending on your location and the type of products you plan to sell. Be sure to research and obtain any necessary licenses or permits before starting your business.
Conclusion on Best Wholesale Products to Sell
After weighing all the options, it's easy to see that wholesale products are an excellent go-to choice for anyone looking to sell trending products range of wholesale goods. Not only do they offer a broad selection of merchandise, but they also ensure a profitable margin for retailers by offering discounts on bulk purchases.
Selling wholesale products online is a tried and true way to start a business or expand an existing one, and with the rise of eCommerce, there's never been a better time to get started.